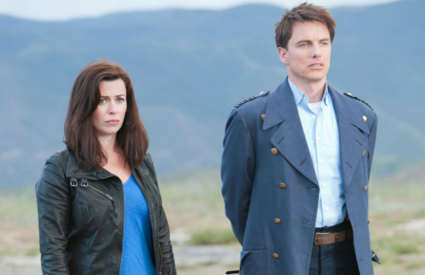 When I sat down with John Barrowman at Comic Con, he said that this was the episode that Torchwood fans should be looking forward to. Well, in actuality, he said Episode Five, but he was talking about this one. This was the big look into Jack's life, how he might be involved in the root of the Miracle. It was also to be a "Big Damn Jack and Gwen show." While "Immortal Sins" tried to do all of these things, it was foremost an opportunity for Eve Myles' Gwen Cooper to steal the show.
Throughout the run of Torchwood, we've seen Gwen fight to keep her work life in balance with her home life. She has been, for the most part, pretty successful. She got married, and told Rhys what she really did – something that no other member of Torchwood was allowed to do. Her confession to Jack colors all of that history:
I caused this; I knew this would happen. I knew Torchwood was toxic. Right from the moment I joined; the very first day. But I stayed … because you know what is the worst thing of all? After all of the shit we have seen, all the bloodshed, all the horror … do you know what is worse than all of that? I loved it … I bloody loved it. And I'd keep telling Rhys I was sorry and I say to little Anwen, "I'm sorry," but I loved it so much. I knew things that no one else knew, and I felt so special. And when we lost people, it was so, so big, and I could say it was worth it, 'cause the bigger it was, the more important I was, and the more people we lost, the more that meant I was a survivor, and I was better than them. Oh god this is all my fault, and now they've got my beautiful little girl….
Then, she promises Jack that she'd see him killed to save her family, and he'd do the same to save his new mortality. These confessions and pledges weren't what they seemed at first; they were not threats or pontifications. Jack and Gwen were, in their own way, confessing their sins to each other. They both figured their relationship might soon be at an end, and they were both clearing their conscience, at the end. Thanks to Rex, Esther and Fred, they were given a real chance to forgive each other.
I'll have to hold judgment on Angelo for now. They've spun the idea that the Big Bad, be it Angelo or someone yet unseen, has a significant grudge to bear against Jack. After Angelo led the folly that was Jack's circus act torture show, it would seem that the Captain has much more of a right to be pissed than his former lover. I had hoped, with only three episodes left, that we would have more answers than hints at this point, but I think I'll keep waiting and see how things play out.
Notes & Quotes
"We just did something special … why do you make it cheap?" – Angela
"I suppose I do sometimes." – Jack
"It's been about 700 years since my last confession. Where to start? How about the triplets. Or the naked circus. Or that sapphic leapfrog jamboree." – Jack
A direct reference to the Doctor, and a mention of the Trickster's Brigade
Two episodes with no Jilly or Oswald?
"I'm sorry Angelo, but this is the story of my life. It always ends the same way. You kill me … men like you kill me." — Jack
I absolutely love Esther and Rex riding in as the cavalry, and Gwen's embrace of Rex
Poor Fred, saves the day, but is forced to shoot someone for the first time
"[To Jack] You, you're going to live." — Gwen
"It's a talent of mine." — Jack
"I meant every word I said." — Gwen
"So did I [they hug quickly]." — Jack
Photo Credit: Starz