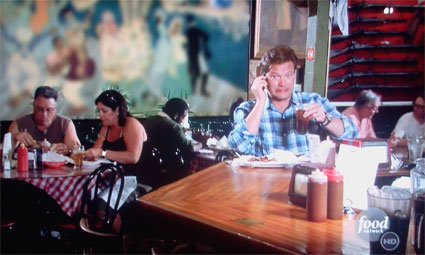 Things got heated this week as The Great Food Truck Race arrived in Memphis, the home of Southern Barbecue. Of course, the first challenge involved creating a homemade barbecue sauce … oh, yeah, and butchering a 100 lb pig to put the sauce on. The Seabirds girls are probably thanking their lucky stars that they were eliminated last week. All of the teams did surprisingly well with the butchering, but a three hour prep and cook time did the pork no favors. In the end, Roxy won, got an additional $500 in seed money (they all got $500 to start) and a two hour head start on selling.
The other three teams had to stay behind and break down all of the leftover pig and take the meat to a food kitchen as a donation. Even with that obstacle, they all still beat Roxy in opening their trucks because of the extended amount of time it took the Roxy guys to prep. Just as everyone got into their selling groove, that evil Tyler Florence called with a Speed Bump — everyone had to go vegetarian. Now, couldn't they have been told this before they did all their shopping? Seems like an incredible waste of food to me, so hopefully whatever they couldn't sell also got donated.
The hiccup didn't faze Roxy, who just took the meat off of their grilled cheese sandwiches and continued as normal. The others had some menu modifications, but poor Hodge Podge had to shut down completely and go shopping again because the only veggies on their truck were french fries and "cold slaw" (as chef Chris Hodge called it). Korilla was totally thrown for a loop and decided to go with tofu tacos, but the people of Memphis just weren't buying it.
Day two brought bad weather, no lines (except for Roxy), and a new twist — a local blogger, The Chubby Vegetarian, was going to try something from each truck and do a post about the best one to help drum up business. The winner also got immunity for this leg but no one knew who won until the elimination. The Chubby Vegetarian was not impressed with Korilla's food (at least not in the TV edit … check out his blog to see how he really felt about the food), liked Roxy's $9.00 grilled cheese sandwich (with caramelized onions and truffles), and wasn't happy about Hodge's mustard-based Carolina-style barbecue sauce, but chose Lime Truck as the winner. During the rest of the selling day, teams moved around town to try to find better locations, but not even a free concert in a local park helped sales.
When all was said and done, elimination day came and Tyler was acting very strangely. Everyone sensed something was off that day, but Tyler got down to business and told Lime Truck they were safe (and they actually came in second with $5377). The other three teams had to deal with some shocking news — one of the teams had cheated by adding $2700 of their own money to the till! Each team knows they have to keep their accounting straight and their totals have to match their receipts. The one team who had the worst, they thought, sales tried to bump up their total so they could stay in the game, but for pulling this little stunt, Korilla was disqualified and sent home. The irony of the matter is that they would have been in third place with $5258 and Hodge Podge would have been eliminated with sales of only $4961.
Worst of all, one of the Korilla guys said as they were skulking back to their vehicles, "He just made us look really bad out there." Really?!? Tyler made you guys look bad by calling you out for cheating? You couldn't even be bothered to offer the other teams an apology for damaging the integrity of the competition by trying to inflate your own total? And Tyler made you look bad?!?! I don't know how their regular customers back in New York are going to take this outcome, but I don't think I'd bother to patronize their business any more. Sorry guys, but you made yourselves look like total asses on national TV.
Photo Credit: Food Network