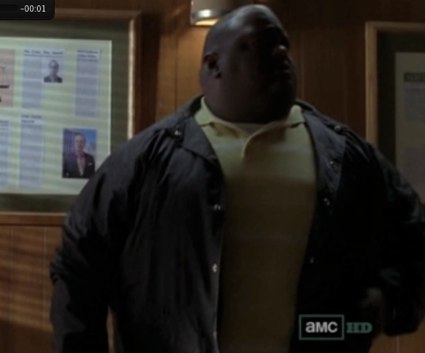 Following last week's episode of Breaking Bad, there were a lot of comments flying about how the ricin-laced cigarette found its way into Brock's hands. Three of the most popular theories: Gus stole the cigarette from Jesse, and he gave it to Brock; Walter stole the cigarette and  gave it to Brock; and Brock simply took the cigarette out himself. After reviewing the episode closer, I'm convinced that at least one of those theories can be thrown out: Brock did not get the cigarette himself. This is because I'm near certain that Saul's bodyguard swapped cigarette packs with Jesse when he patted him down, and I've got proof.
I'll go a step further and say that I believe Walter is behind Brock's poisoning, though I'm not ready to believe it was through deadly ricin. Walter more than likely came up with something milder in order to scare Jesse into at least believing it could be the ricin, and then work his way into talking him over onto his side. The way I see it as going down:
Walter figures he needs Jesse on his side in order to get close to Gus. How to do that? Make Jesse distrust Gus. To do that, go after someone Jesse is closest to and make him believe it was Gus's doing.
Walter calls Saul and tells him he

has to

get Jesse there no matter what it takes, and he has to switch out cigarette packs with him however he can. This would explain why Saul, of all people, was so insistent Jesse come pick up his money from him. I mean, really, why is Saul so interested in making sure Jesse gets his cash?
Saul instructs Huell to do the pack swapping for him, which would account for why Huell is suddenly patting down Jesse so aggressively when he'd never done it before (though I guess that could be excused by Saul being so paranoid at that moment, but you'd think Huell would know Saul was expecting him). You also clearly see Huell pocket something after he's done patting Jesse down.
Walt poisons Brock somehow and awaits Jesse at his home. A huge gamble, but as you can see it worked.
Maybe it didn't all go down like that, but I'd say it's plausible. We'll find out soon enough! In any case, here's a quick clip of the scene so you can see for yourself:
UPDATE (2011-10-11): Actor Bryan Cranston confirms!
"So yes, the cigarette pack was exchanged by Huell in Saul's office [when he frisked Jesse in Episode 12]. If you look carefully at that scene, you'll see that when he's done searching Jesse, he puts his hand in his pocket. It's a quick moment, but you see his hand go in his pocket quickly. So it was set up that way."
Photo Credit: AMC