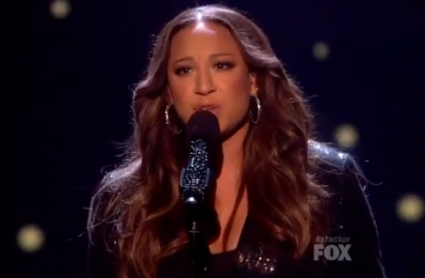 That's her. Melanie Amaro; the one who by all rights should win The X Factor this season. But now that the voting has been turned over to the American public? Hell, anything can and will happen. We've seen examples of this on Idol for years. And now, the unpredictability is jacked up with the kids voting for acts none of us really want to see move ahead. Examples? Sure! Astro, The Stereo Hogzz (oh good golly that name even!), and I could go on.
And, yes. I know I've called out Josh as my pony. I'm still feeding him virtual hay. He's fabulous! Too bad he has a complete idiot for a mentor, that picks horrible songs for him. What in the hell? Please Nicole! Give the guy some Neil Young, Joe Cocker, Sting or … ! Geez!  Make him sing "Solitary Man" even! You are wasting his talent. (It's her fault if he gets voted off. Strictly hers and hers alone.)
It'll be easier for both you and I if I take each judges' finalists and pick what I think is their weakest link at this point. Fine by you? Thanks. I knew I liked ya for a reason.
L.A.'s weakest link: Hmm. In L.A.'s house it's all about the hip hop/rap. And although I would completely boot Astro in the ass for bein' a fulla himself punk, (if nothing else) I think Chris Rene is gonna stroll, boy. Astro and Marcus really "hey ho'ed and got da beat in." Sigh. I am now apologizing in my head to Sister Sean, my eighth grade English teacher. Sorry, Sister.
Chris' rendition of  "Superstar" wasn't his doing. It was all L.A. And I hated it. You see, "Superstar" is an old favorite of mine. When sung correctly, and by that I mean slowly and with meaning, it really is a lovely song. Chris rapped/talked it. I need to make a trip to the dentist as a result, and get a bite guard for the TMJ that he caused me. This was a mess! So long, Chris.
Pauler's weakest link: Let's face it. All of Pauler's groups are reminiscent of the touring act  Up With People from back in the day. If you don't understand my reference, well then you're not laughing are you? Who cares which one of them leaves? Not me. My! That was rather nasty of me. Perhaps I didn't get enough protein today.
Nicole's weakest link: Is really Nicole herself. She's just a bad mentor. Case in point? Who I feel is her weakest singer, Stacy Francis. I just had to chortle last night, when she was so defensive of her past song choices for Stacy and called Simon out for stereotyping her last week as a "church singer." Then! In the next breath she says, "If he wants spiritual, we'll give it to him!"
Holy hypocritical Batman! If Nicole felt as strongly as she said about Stacy; that she can sing anything? Why cave to Simon? Stacy (please) is leaving. The woman screeches at me. Make her stop. Make her stop! I rock back and forth in my cozy armchair with my fingers in my ears every dang time. My cats run for cover. My wallpaper peels of its' own volition. Yeesh!
Simon's weakest link: Well, I've showed you Simon's strongest choice, at the start of this whole thing. And don't hate me. But Rachel has got to go back to grade school. Yes, I know. She's really cute. But she can't win this. We both know that. She's too young, she has no range to speak of, and she can't command a stage. She's too young! Give her time. Or better yet? Send her to Broadway to play Annie.
Also! It's the only time I've agreed with Nicole and her ramblings. Why would Simon change the words to "Walking on Sunshine?" Ridiculous! Not "inventive," Simon. Ridiculous.
And that, my friends, is that. Who do you think is down for the count tonight?Am I right or am I wrong? And? Did you vote?
P.S. If the judges use the word "proud" one more time? I'm taking hostages.
Photo Credit: FOX