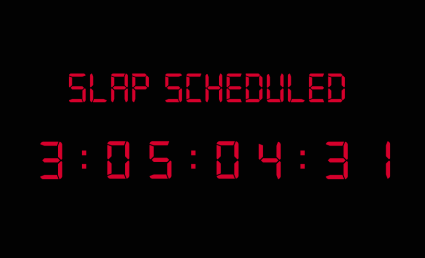 Just when Barney Stinson thought it was safe to walk the streets of New York City, it looks like it might be "Slap-O'Clock" once again. The How I Met Your Mother producers' Twitter account — @himymprod – just sent out the following tweet: "Not sure why, but we have a feeling you should check out http://www.theslapbetcountdown.com – just sayin'"
What does that mean? By my math, that means the slap would come about 7:25 PM Eastern Time, factoring in the change in Daylight Savings time — and that's hoping that I did the "fall-ing back" in the right direction. I probably missed carrying an hour somewhere along the way, because it makes considerably more sense for the time to be pointing to 8:25 PM. Considering that the Slap Bet has revolved around Thanksgiving the past several times, maybe it's time for How I Met Your Mother to change convention once again.
What do you think is in store for Barney when the Slap Bet Countdown gets to down to zero?
Photo Credit: theslapbetcountdown.com