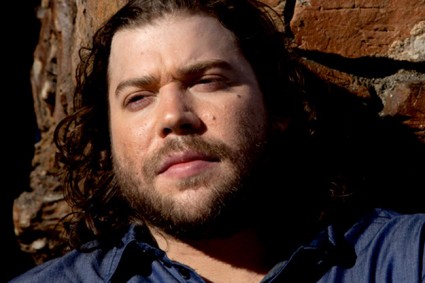 So. You and I are just down to the nitty gritty with The X Factor now, aren't we? There's no more "Save Me" songs. The judges are out and it's up to the voting public. Let's talk about each contestant in excruciating detail. Shall we?
Marcus Canty: OK. I will state the obvious. It's time for Marcus to go. Statistically he's been in the bottom two enough times to tell us that this is inevitable. (And I was super bad at math in college, and this is even clear to me.)
So now that we've gotten the pesky facts out of the way? Let's jaw about his performances this week. I don't know about you, but Marcus just leaves me saying "Meh" a lot in my head. He's milquetoast. He's going for the whole "New Luther Vandross" thing, I think. But the problem is that he doesn't have the charm or the chops to back it up. Luther's style of music (along the lines of Celine and Mariah and suchmuch) I'm not a huge fan of. It's over the top a bit for me. But I can appreciate it, and I know there's a huge contingent of love struck teens and romantic women out there who crave this sort of schmaltz. Really, that's fine by me! Luther had it down pat. He had emotion plus. He meant what he sang and his voice was just lovely. (Yes, lovely. I use the word often so get over it.)
Marcus just … can't. See ya!
(At this point I'm going to introduce you to what I will now refer to in this post as "SNCs" or "SPCs". These are acronyms for the ridiculous things said by judges Nicole Sherzinger or Paula Abdul that I noted. As in "Stupid Nicole Comments" or "Stupid Pauler Comments." These comments include corniness and insane drama. Get a Dramamine!)
SNC about Marcus Canty: "To me? You're already a champion and a winner."
Onward to …
Chris Rene: This guy is so likable he should run for Congress. His back story and his personality and struggles are what has kept him around for this long, I truly believe. The judges keep pointing out his voice is "not the strongest in the competition." That's true. It's not a strong voice. It doesn't have power or carry to the rafters. But at the same time, I think his mentor (L.A. Reid) is not seeing where his potential lies. Chris has shown us in the last two weeks that he's a musician with some skills. When he's alone at the piano he is at his best. I said last week he reminds me of Jason Mraz. Not a rapper, L.A.
And if he's marketed this way, and unleashed to explore that sort of style? Well, I would just love to see that.
SPC about Chris Rene: "Your heart resonates with the World." (I just gagged.)
SNC about Chris Rene: "Your spirit transcends across the Universe." (Hey! A hairball just came out! Where did that come from?)
Onward to …
Melanie Amaro: Well, she didn't make any speeches tonight, which was a plus. I was not at all surprised that Simon chose "Feeling Good" for Melanie. If you've been playing along, I've stated that this chick is going to be the next Jennifer Hudson, and she's made a hit of this. So, a no brainer.
She's awesome. Admit it. She killed that tune so dead it was unreal. Nuff said. She's on to the finals.
SNC about Melanie Amaro: "You've grown into being the woman that you are. That was your freedom anthem." (Uh oh. I just coughed up Jimmy Hoffa! So that's where he's been!)
Onward to …
Josh Krajick: Yep. He's my pony and all my meager wealth is on his nose. Look. I don't like the song "Hallelujah." I just don't. I don't know why. Maybe because it's overused and over sung so much and it's sad and semi cheesy. But if I had to be subjected to it one more time? I have to say Josh pulled it off for me. And his "Pepsi Challenge" Beatles tune was just awesome. Bravo!
However, you know me, and I have to speak the snarky truth sometimes. Why can't these makeup people at Fox clean Josh up? He always looks like he just crawled out of a dumpster! Get some pants on him that fit! Shave that woodchuck on his face! Cut that greasy long assed mop off! What's the problem? I'm telling you I laugh every time they show him backstage before a performance with the makeup people tweaking at him. What are they tweaking?? They haven't done anything!
SPC about Josh Krajick: "You attack our souls." (Huh. Jimmy Hoffa just sat up and asked me to join the Union. This cannot be good.)
Onward to …
My Brain Just Flies Around:
A. Steve Jones is just an idiot. Where did they find him? I have secret thoughts that anyone with an English accent is fair game to become a host of "something" now.
B. The dramatic music and introduction of the judges is so beyond the beyond corny that I'm ashamed of you Simon Cowell for tolerating it.
C. I was right last week. Rachel did say to her Mom, "You promise?" Not "You promised!" As in "You promised me I'd win this." I saw it on playback. So there.
D. Hearing Nicole get voraciously booed for her behavior and decision regarding Rachel last week? It made me smile.
Onward to …
Your Thoughts! Please leave them below. I want to hear them. I really do!
Photo Credit: Fox