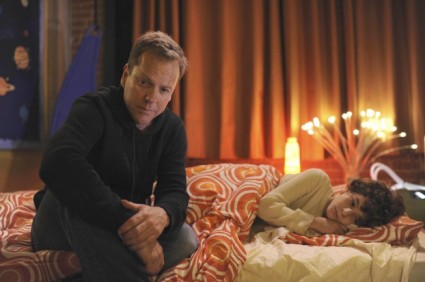 From the pilot of 24, I was a huge fan; it remains one of my favorite television series of all time. Understandably, the show also made me an admirer of Kiefer Sutherland. Most of his filmography is sitting on a shelf in my office. So when I heard that he was making a return to TV a mere two seasons after Jack Bauer disappeared to parts unknown, and doing it on FOX, my reaction was two-fold: excitement, and curiosity.
How great was it that I'd get to watch him every week once again? But at the same time, after how long and hard he worked for eight seasons, why was he coming back and not taking a well-deserved vacation somewhere tropical?
The pilot of Touch answered both those questions for me.
If you had any doubt, Sutherland's performance proved that his award-winning run as Bauer was no one-hit wonder. Struggling single father Martin Bohm wasn't going to be busting any heads (in fact, he got slugged in the stomach), but within the hour I felt the same compassion for him that I had for my favorite CTU agent. I understood and sympathized with his frustrations and fears as he tried to raise his mute and brilliant son Jake (David Mazouz), and deal with pleasantly-not-stereotypical social worker Clea Hopkins (Gugu Mbatha-Raw). Sutherland is clearly the star, but there's an intriguing quartet of main characters here, including an all-too-brief appearance by Danny Glover dispensing wisdom.
I'm also intrigued by the premise of Touch. The idea that everything's connected probably won't sit well with everyone, and others might not want to bother with trying to put all the pieces together, but for me it's a huge playing field. When we spotted the number 318 on the back of a school bus in one of the show's opening scenes, who could have guessed it would lead to Martin making the firefighter who found his wife in the World Trade Center (Titus Welliver, who in a moment of hilarity also appeared on CSI an hour later) miss his train, and therefore be around to save that same busload of school kids? Who was the complete stranger that Martin called at the end of the episode? (I don't know, but it sounded like he was voiced by Sutherland's 24 castmate Jude Ciccolella.) There's tons of potential here, and I'm hopeful that the show will make the most of it.
And I'll be sappy for a moment and admit that as TV shows can sometimes get dark, violent, depressing, or all of the above, it's neat to have a show that makes me think about the positive, and come away with a hopeful feeling inside.
FOX had a great midseason arrival last year with The Chicago Code, and if this show is everything it could be, the network has scored another winner with Touch. When it comes to longevity, let's hope that this show avoids Chicago Code's cruel fate, and becomes Kiefer Sutherland's next 24.
Photo Credit: FOX