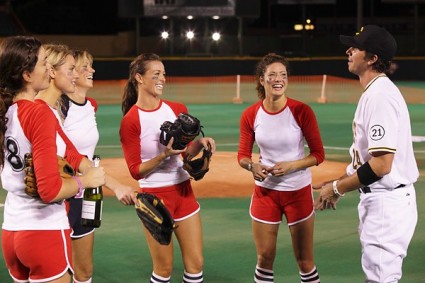 When Bachelor Ben announced last week that the next stop on the Bachelor World Tour of True Love would be Vieques, Puerto Rico, I immediately got an earworm, albeit a very pleasant one (how often does THAT happen), from the score of West Side Story: 
Puerto Rico,
You lovely island…
Island of tropical breezes,
Always the pineapples growing,
Always the coffee blossoms blowing…
Such a picture of tranquility and serenity. Sigh.
Too bad that's not the Puerto Rico we got to see, thanks to the Bachelor circus:
Puerto Rico,
You poor island…
Island of constant appeases,
Always the sudden rainstorms blowing,
Always insecurities showing…
And Courtney ho-ing,
And the Bachelorettes crying,
And audience nerves trying.
(With great admiration and deepest apologies to Stephen Sondheim, my personal theatre deity.)
There really was never a dull moment on this installment, as the girls started with their patented squealing right as they hit the beach in Vieques, doing that "whoooo girl" thing as they took stock of their posh accommodations at the W Hotel Retreat and Spa.
That may have been the happiest moment on the episode, both for those on the show and for us watching it. Well, Ben and Nicki's date was pleasant enough, at least at the beginning — snow cones and stalking a wedding in Old San Juan. But then it  began raining gatos (per Ben's Spanglish. What? No perros?) and our getting-to-know-you duo got caught in the storm and were forced to go buy dry clothes. In an attempt to look authentically Latin with their attire, Ben donned an all white ensemble, complete with guayabera and straw hat that gave him the look of a drug lord's younger brother. Nicki, on the other hand, ended up with a dress that appeared fashioned from two large scarves from Joan Rivers' QVC collection. Not the best look for either, frankly. The usual awkward dinner conversation culminated with divorcee Nicki getting a rose. Yawn.
The other one-on-one date involved Elyse (Who? Are they shipping girls in while we're distracted by the antics of others?), a yacht and another unfortunate wardrobe choice by Ben. His ill-fitting tuxedo at dinner was straight from the Pee Wee Herman collection. I'm beginning to think the wardrobe people are starting to hate him as much as we the audience do. While boating around, Elyse opened up and shared that at the ripe old age of 24, she had done everything she wanted to do in life and was tired of being single. She then divulged that she not only missed her BFF's wedding to come on the show, she had also quit her job. Danger Will Robinson! Red flag waving wildly!
Given that Ben and Elyse have less chemistry than my attempt in 10th grade to figure out that acid/base thing (Don't judge me. My right brain goes into overdrive when science is involved.), it's no surprise that she is denied the rose (which Ben meanly insists on waving around while giving her the boot) and is sent home unceremoniously in a dingy. That in itself is rather serendipitous, since the date started on a yacht. Riches to rags and all that jazz.
The group outing was teased with a date card that mentioned diamonds and got the girls all a-twitter with the thought of jewelry. Very clever, Bachelor producers. Being the sports fanatic that I am, I correctly surmised that the diamond was of the baseball variety and that these gals would be playing a little hard ball at Roberto Clemente Stadium. With a softball. The chicks will be split into two teams, playing for the "prize" of a romantic beach party with Ben. Winners got to cavort with champaign on the sand; losers got nothing. In uniforms of knee socks, shorty-shorts and jersey t-shirts taken straight from the locker rooms of the NBA in the '80s, the girls took all their pent-up competitiveness and brought it to the game, with some — like Blakely — showing surprising athletic prowess. The resident VIP Cocktail Waitress was so impressive, even Courtney the Model took notice, commenting, "Who knew strippers could play baseball?" Yeah. It was that kind of game. Roberto Clemente was rolling over in his grave. Oh — Ben was the pitcher for the whole game, wearing yet another unfortunate ensemble — a uniform for the Gigantes, a team in the Puerto Rican Baseball League. Gigante is an accurate description for said uniform, since it was not the usual tightly-fit pair of pants, et al, but more of the variety usually seen on Yankee pitcher C.C. Sabathia.
Did I mention I'm more than a bit of a sports fanatic? Anyhow.
The game was tightly contested, but Team Red (Courtney the Model, Kacie B., Jamie, Casey S. and wildcard Lindzi) beat Team Blue (Blakely, Jennifer, Emily and Rachel), thanks to a strikeout by ginger Jennifer, and received a victory champagne shower in the dugout before being whisked away via helicopter to that rad beach party. Team Blue is unceremoniously sent back to the hotel on what is probably the Gigantes' team bus, acting not unlike a t-ball team who lost their game. Tired, crying, whining. Time to eat a cookie and take a nap, ladies. Sadly, there were not even any Derek Jeter parting gift baskets for these dejected gals.
Meanwhile, the beach bash was in full swing, with Kacie B. receiving the date rose, who in turn received the ire of Courtney the Model. Using the old "I want to steal you away" ploy, she dragged Ben down to the beach, coyly doing that full-body press thing girls do with guys they want to shag and calculatedly-casually mentioned that wouldn't it be fun to go skinny dipping. Ben declined the offer, but you could see that the suggestion and Courtney the Model's blurred-for-TV's side boob had him thinking. So when Courtney the Model appeared in a robe on his hotel room doorstep as he came back from his Elyse date and mentioned skinny-dipping again, he didn't blink as he acquiesced and headed to the beach. Where our intrepid duo dropped trou and robe and everything else to go romp in the surf and keep the dude whose job it is to blur out stuff for the censors busy. Never in my life have I wanted it to be jellyfish mating season so badly. There's a jump-the-shark joke to be made here (for I think this is the rock-bottom moment in a franchise that's not known for its class) but I'm too squicked out to make it.
At the pre-rose ceremony cocktail party, Ben expressed some guilt about his surfside hookup in the midst of basically dating 10 other women. Courtney the Model smirked at her WINNING! move and tried like hell to get the other girls to figure out what happened by bringing up skinny-dipping in a cocktail klatch. Emily tried to feign indifference to Courtney's antics during a chat with Ben, but she couldn't help herself and started on the "she's not who you think she is" rant again. Ben shut her down with a threatening "tread lightly, be careful." Ugh.  And in the most surprising element of this episode, sweet, way-too-good-for-this-show best kisser Jennifer was the roseless one, going home in an ugly cry of self-doubt and disappointment.
Next time: off to the most glamourous city in Central America — Panama City, Panama! Now I'll have Van Halen stuck in my head for the week. (Yes, I know the song is really about a car, but it's the word association thing that gets me every time.) Thanks, stupid Bachelor show. Thanks a lot.
Photo Credit: ABC Television Group ©2012 Disney