HIMYM's non-linear mastery provides for a brilliant episode
When 'How I Met Your Mother' steps up to the plate and takes a swing at a non-linear story like this one, they often hit it out of the park. 'The Burning Beekeeper' is another example of that excellence.
- Season 7, Episode 15 - "The Burning Beekeeper"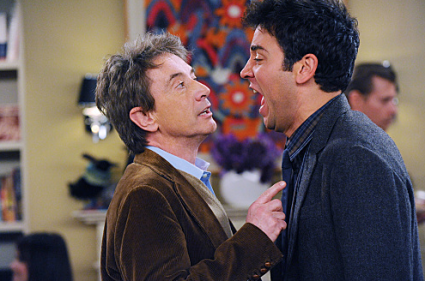 I love when How I Met Your Mother pulls off a piece of non-linear storytelling mastery like "The Burning Beekeeper." The ability to weave several disparate yet interconnecting storylines together is tough enough on its own, but to reveal all of the storylines backwards and forwards through three different (perfectly timed) acts set in three different rooms is a stroke of brilliance only a show like HIMYM can provide. You might want to complain about not getting to the "who's the mother" storyline often enough, but I'll take episodes like this all day long.
There's really not much to say about each of the storylines: Robin and Ted's fight, Barney's latest conquest and the interlocking shenanigans of Marshall, Lily, Cootes and Lily's dad. Because, narratively, not much happened: bees, Gouda, cheese knives and spring rolls notwithstanding. To time and match each of these conversations must have taken an inordinate amount of time to plan and film, but the result was absolutely wonderful to watch.
I say 'ye bravo Carter Bays, Craig Thomas, and the whole cast and crew!
Notes & Quotes
Neil Patrick Harris called this a "structure" episode, his favorite kind, on Twitter today. He also said each act was exactly the same length.
"So you think this is going pretty well?" – Lily
"Baby, are you kidding me, you single-handedly pulled off the party of the year!" – Marshall
"Oh stop it … I used both hands." – Lily
Why did everyone keep calling Marshall's glasses of wine "cocktails?"
"Young man, are you suggesting fisticuffs … as in, with our fists?" – Garrison Cootes
"And feet … I'm a kicker." – Ted (Don't forget 'Common Sense' and 'Reasonable Discourse')
"Oh! Looks like I just started eating white meat again." – Cootes
"It's my penis we're talking about. You've seen her, she's magnificent." – Barney
"She?" – Robin
"Every penis is a girl, Robin, everyone knows that. Like ships, and lake monsters." – Barney
Loved the use of Flight of the Bumblebee as music in the episode (considering, you know, the bees in the basement).
"C'mon! Lay some of that classic 'Robin Scherbatsky mean son-of-a-btich' on me. Treat me like I'm a Girl Scout trying to sell you cookies." – Marshall
"[Yelling] Four dollars a box and you're out of Thin Mints, you green little … I don't do that!" – Robin
"Can I talk to you about something very dear to me?" – Barney
"Promise me this isn't about your penis." – Robin
"I promise it isn't about my penis." – Barney [immediately preceding the other penis conversation]
"Every 30 seconds there's another crisis that needs to be dealt with, and I have to deal with it! This is … oh God, this is parenthood isn't it?" – Lily
"So they say." – Ted
"Back to our fight?" – Robin
"Back to our fight. I cannot believe you screamed at that old woman at Zabar's." – Ted
"She was trying to cut in line. She was going to get the last kugel." – Robin
"She was 90 years old; it was probably going to be her last kugel." – Ted
"Sometimes in life you have to be assertive, and stand up for yourself." – Robin
"You called her a whore." – Ted
"Who wears that much makeup?" – Robin
"Old ladies!" – Ted
" … who take money for sex, exactly!" – Robin
"You never stand up for yourself. Remember that sixth-grader who kept stealing your lunch?" – Robin
"High school was a tough time for me OK? And that girl was muscular; forearms like Popeye! How do you know about that?" – Ted
"Marshall told me. He also told me you said you had your mom stop making peanut butter and jelly
sandwiches because of that girl's nut allergy." – Robin
"I didn't want to add to her health problems; she was already in a wheelchair!" – Ted
"It's funny, she's waiting for me in the guest bedroom right now." – Barney
"Oh God, Oh God!" – Lily
"That was the idea, but now, forget it!" – Barney
"I don't know the first thing about bees." – Cootes
"You want to know a secret? Neither do I." – Lily's dad
"It's not a secret." – Cootes
Photo Credit: CBS