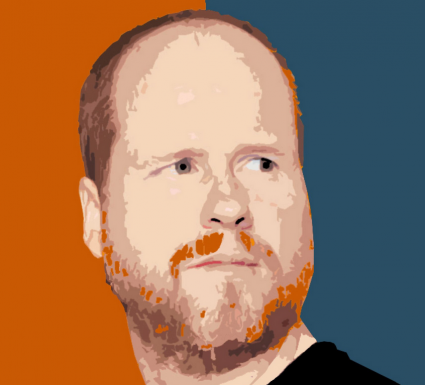 If you know me – or have any familiarity with my bookshelf – you know that I like books about television. It's a natural leap to make: I like television and I like books, therefore I like books about television. When the opportunity to review Joss Whedon: The Complete Companion came up, I jumped at the chance – and elbowed a couple of other Clackers out of the way, but hey, bruises heal. The book, produced by the fine folks over at PopMatters, is a collection of essays and interviews on everything Whedon – and never has the words "everything" and "complete" been more accurate than they are here.
The chapters are separated into logical sections: Buffy the Vampire Slayer, Angel, Firefly and Serenity, Comics, Dr. Horrible's Sing-a-long Blog, Dollhouse, and Movies. In every section there is a chapter (or several when the material calls for it) called "Joss Whedon: 101." These chapters provide background on each project Joss has worked on over the years, explaining both its significance to his greater career and just why it was good – or bad. These will be particularly helpful to those that aren't as familiar with all of Joss' work. For example, I've read the canonical Buffy and Angel comic series, but I'm less familiar with his work on Astonishing X-Men and Runaways.
The 101 chapters are also a good resource for the properties one is already familiar with as well. The Buffy: Season Eight introduction in particular cleared up several things about the final act of the story that always left me a bit confused (and outright corrected me on several other things). And while I was familiar with some of the story behind Joss' work on Alien: Resurrection, I appreciated that the author had read both the original script and final scripts, and while he was definitive that the original script was superior, he wasn't afraid to call it out as one of Joss' lesser works.
As with any anthology, the essays can be a mixed bag. Each author has their own writing style, ways of making their points and sense of humor, and just when you get accustomed to their way of doing things it's time to move on to the next essay. Admittedly that criticism is more of the genre than this particular book and truly a weak criticism in general – I again direct you to my bookshelf – and also specifically in this case. I did not find a weak link in 485 pages. Sure, some of the material gets complex, specifically when looking towards psychology, religion and other tough ideas that Joss has taken on, but that is more of a testimony to the depth of material in each of his projects.
There were a couple of essays that really stood out. I enjoyed Kristin M. Barton's "TV's Grim Reaper" which explored Joss' penchant for killing off some of his most beloved characters, often when they have just found happiness. Ian Mathers' "The Strength and Conviction to Lose so Relentlessly" summarized Angel — and Angel the character — so succinctly that it made me appreciate the final moments of the series more than I ever have before. Lynnette Porter's look into the creative relationship between Whedon and one of his favorite actors, "Nathan Fillion Misbehaves All Across the Whedonverse" was a fun read — and I love that she quoted a Fillion interview conducted by fellow Clacker Kona Gallagher. The entirety of the Dollhouse section has prompted me to start a re-watch of that show as soon as possible.
I almost wish that the publishing of this book had been held back just a couple of months. I read the "Joss Whedon: 101" chapter about Cabin in the Woods just hours after I watched the flick, and it left me wanting for the same in-depth analysis that this book provides. There are a couple chapters about the upcoming Avengers film, including the great "Six Reasons Why Joss Whedon is the Perfect Director for The Avengers" by Mathew Hurd.
Like any good television anthology, Joss Whedon: The Complete Companion will get revisited time and time again, often after I've watched a specific show or movie, or re-read a particular comic. Whedon's work is so detailed and deep that each viewing often reveals a new twist on thinking, or a new joke you'd missed before. A Companion like this is a wonderful way to explore that knowledge and depth. I can't wait to see what the folks at PopMatters send up next.
(The preceding piece was based on a complimentary copy provided to CliqueClack for the purpose of review.)
Photo Credit: PopMatters