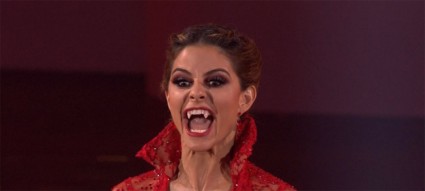 Last week, it was Motown Night on Dancing With the Stars, and we lost Motown legend Gladys Knight after all the votes were counted and she danced a duel against Rochon Fegan. She didn't stand a chance. This week, it's Classical Night (not Halloween, but I couldn't resist that image) … so could we lose the season's classical music star, Katherine Jenkins? Probably not, but you never know what the viewers are going to do, especially after the judges suddenly became hyper-critical with audience favorite Melissa Gilbert, and with Team Paso from the second round team dance, which included William, Donald and Melissa … hmmm, I'm seeing a pattern here. Do the judges have it in for Melissa this week, or are they using reverse psychology on the viewers to throw some votes her way? That "bad judging equals more sympathy votes" tactic seems to work all the time on other competition shows, so why not DWTS? Despite some of the judging quirks, we did have a first this week — the first perfect 30 of the season! Who earned that score? The answer may surprise you (if you didn't watch, that is). Let's have a look at the round one individual dances, shall we?
Katherine & Mark, Rumba — Katherine's lines and extensions were spectacular and keeping time to music without a beat is tremendously difficult, but the whole rumba to classical music was just weird. Great, but weird. Len thought it was classic and elegant. Bruno and Carrie Ann thought the dance could have used more heat, while Len liked that they didn't go for the raunch. Score: 27
Melissa & Maks, Argentine Tango — Maks has a cyst in his ankle, so he pulled Val in to rehearsal for backup in case he couldn't dance. But he did, and it seems last week's breakthrough has finally put Melissa in the game. Where has this woman been all season? Amazing, intense dance, and the leg lift and reverse flip was jaw-dropping. But, the judges hated it, saying it lacked dance quality over tricks. Carrie Ann said it was Cirque du Soleil gone wrong! And Len thought it was too intense! Too intense for an Argentine Tango??? The audience was not happy with the comments or the score, and I think the judges were totally off-base. Score: 21
William & Cheryl, Viennese Waltz — I have no idea how the dance was because I was so freaked out by the little girl singing. Was Charlotte Church behind the curtain providing the voice? That was even more strange than a rumba to classical music! But the dance looked good despite William's still-injured ankle, and Carrie Ann loved it. Score: 27
Roshon & Chelsie, Argentine Tango — Adding violins to "Bad Romance" does not making it classical, it makes it Muzak! And what was the cutaway to the mirror ball and logo? Did Chelsie have a wardrobe malfunction, or did some techie in the booth hit the wrong button? Whatever happened, the dance was intense, with good lifts and some really intricate leg movements, but I still think Melissa's was better. Carrie Ann had to give Rochon a hug after the others thought he was wobbly in his legwork. She thought he was fine. Score: 25
Donald & Peta, Viennese Waltz — Donald seemed to glide across the floor, but the fleckle was a little weird. Okay, I don't know what that means. At least the spooky little girl wasn't singing along. Score: 27
Maria & Derek, Paso Doble — They danced to one of my favorite pieces of music and I loved the intensity of the dance and the vampiric twist. I could have watched them dance for another hour. And then Brooke forced Maria to talk while wearing those fangs. Score: 30 — the first one of the season!
Jaleel & Kym, Viennese Waltz — Poor Jaleel (he said sarcastically). Coming after William and Donald, the best I can say is adequate, and the arms looked a bit sloppy (and it seemed the judges agreed). Judges liked content but not the execution. Score: 24
Then we had the team dances with the total score added to each individual score from the first round.
Team Tango — Maria, Katherine, Rochon, and Jaleel. Overall, very strong dance although Jaleel always seemed to be just a touch out of sync in the group. His solo was okay, but I thought Katherine was the standout. Len thought she was too wild. Carrie Ann thought Jaleel was in sync. She needs glasses. Score: 27
Team Paso — William, Donald, and Melissa. Powerful, intense, in sync, saw only one minor issue with William missing Cheryl's hand but it didn't affect the dance. But Bruno and Carrie Ann thought there was a loss of sync. What? Do I need glasses? (Apparently I do, because rewatching the dance did show some sync issues within the group portion of the number, but it was still more intense and entertaining than Team Tango's dance.) Score: 26 … and the audience revolts! I expected to see produce being flung towards the judges' table.
If you're confused about the scoring, here's a look at the leader board scores with the individual score (and round one standing) and the final combined score in parenthesis:
Maria & Derek — 30 (57)
Katherine & Mark — 27 (54)
William & Cheryl — 27 (53)
Donald & Peta — 27 (53)
Roshon & Chelsie — 25 (52)
Jaleel & Kym — 24 (51)
Melissa & Maks — 21 (47)
As you can see, the added scores did nothing to "turn the leader board upside-down" as Tom Bergeron said it might, so it's anyone's guess who's going home this week. Will Melissa get the boot, or will the judges' harsh comments gain her a ton of sympathy votes? Could we have a shocking elimination with one of the top scorers going home, or has Jaleel finally worn out his welcome? Who do you think should be waltzing out of the ballroom this week?
"You can't spell classical without ass." — Mark to Katherine during rehearsal
"Sharp as a razor, crisp as a Pringle, and more tension than my grandmother's knicker elastics." — Len complimenting Maria and Derek's Paso
Photo Credit: ABC