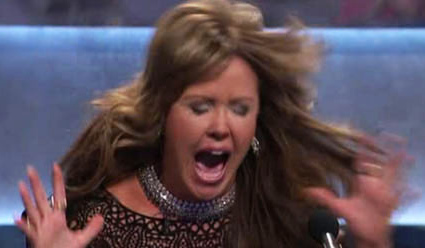 Annnnnnnnnnnnnnnnnnd here we go.
Season 9 of So You Think You Can Dance may just be barely getting underway, but resident judge Mary Murphy — "The Conductor Of The Hot Tamale Train" — is already firing on all cylinders according to this report.
This is what happens, apparently, when you get famous by winning numerous world-wide dance competitions, when you body double for Julia Roberts, when you're renowned for being a world-class technical dance instructor, when you win a 2007 award as Best Host/Judge at the Reality TV Awards and are featured on one of the most popular summer reality shows ever.
Right?
You become a "desperate, cocaine-fueled nymphomaniac" with no control, suicidal tendencies and no common sense. Where have we heard that one before? (Leave Two and A Half Men and Charlie Sheen out of this, you.)
I don't know … maybe there's truth to the rumors. Maybe her former manager Michael Sanchez has got all his ducks in a row in accusing Murphy of all the wacky closed-door exploits he purports and he can back every single one of them up just by opening his file drawers and offering the black and white proof.
I mean … if she's not "drug-fueled" then how else do you explain this?
Or … maybe there's the better part of $1.2 million waiting to be raked in by Ms. Murphy's peeved (or spurned or bored or just-looking-for-something-to-while-away-the-time) ex-manager.
Yeah … that might have something to do with it. If ever there was something that wasn't news, this could very well be it. I have a feeling the fun may just be starting.
Here's to the beginning of the 2012 summer schedule. Who's with me? Anyone? Anyone? Bueller? Bueller … ???
Photo Credit: funnytivoface.com