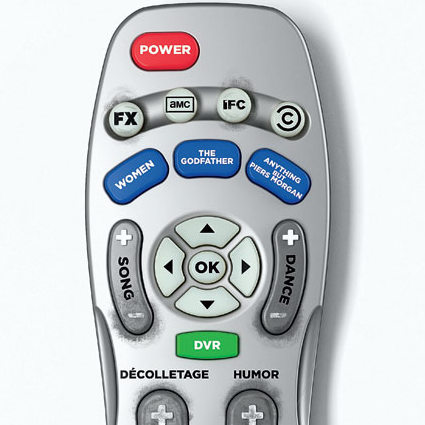 Well … this is pretty much the final week for television finales.
Had Quotation Marks been present in the days of yore, it would have signaled a parched desert landscape where quips and quotes were non-existent. It would have struck fear in the hearts of lesser men and women who throve on the latest chunk of wordage from actors who act or reality shows which put out product of questionable realism.
But fear not! The jaunty, torid summer season begins with fresh newness and even fresher citings!
Look! Here comes Duets! Hey! There's Hell's Kitchen on FOX again! And Burn Notice! Wilfred! The Glades! Falling Skies! Great googily moogily! Anger Management with our old buddy Charlie Sheen is soon to premiere on FX! And more, more, more, more, more!
Lack of new programming with nary a quotation to reference? No witty comments to spew at co-workers as everyone rallies 'round the water cooler? Only silence where snarky, quotatative comebacks were the norm? Pish and posh! Quotation Marks won't let you down! Our ever-present and over-worked squirrels and monkeys are busily preparing for the coming weeks of sweltering summer fun for your dining and dancing pleasure! Have you ever known a monkey to let you down? A squirrel not on top of its game? Well … that's the thrust behind Quotation Marks, gentle readers. It's your rock … your foundation … your steady shoulder … your relief. And best of all, it's absolutely free of charge.
Now, let's see what last week and some of the spiffy finales left for us to ponder, shall we … ???
"I'm dead Wilson — how do you want to spend your last five months?" — House, very much alive
"What kind of a god would give you those legs … and no rhythm … ?!?" — Gene to Peter Pescadero
"Yeah … milk? Saving families? What can't breasts do?!?" — Gene to Bob after Linda exposes herself on live television
"Show's over Teddy. Come on …" — Linda behind the counter uncomfortably noticing Teddy staring at her chest
"Sorry, Lin. It's just uhh … you imagine something for so long and then, like … you thought was pink is brown and … like you thought was symmetrical is not … it's just unsettling …" — Teddy
"Teddy … please … " — Bob
"Listen, I know that you're concerned, but I'm designing t-shirts now. They're gonna be huge. Also medium and small." — Dylan (to Haley's parents after telling them they're moving in together)
"Always keep the rhythm in your feet. Then we're going to add just a little party in the shoulders, alright? Come on, let's get those arms going. No, no, no, arms down here says, 'I'm white and I'm sorry.' But arms up here says, 'You don't know what I am.'" — Phil
"Mom, can I borrow that purple dress I said you were too old for?" — Haley
"In spite of that, yeah." — Claire
"Mr. D, do you have a tuxedo I could borrow?" — Dylan
"Yeah, sure. It's the tux I got married in so it's double-breasted." — Phil
"Perfect, so am I." — Dylan
"Any baggage?" — Swarek
"No. [Swarek stops walking] Yeah." — Andy
Photo Credit: evilmadscientist.com