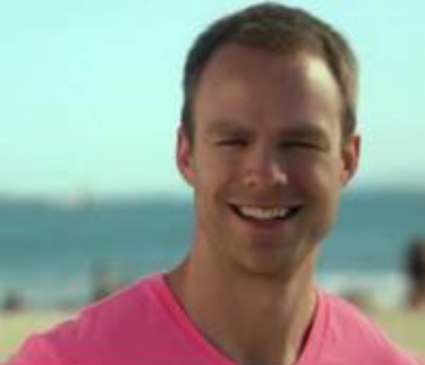 Ryan Thompson, one American Ninja Warrior's top competitors, is an IT training specialist whose motivation for competing in this year's competition is less about earning a trip to compete in the final stage of the competition in Vegas and more about the boobs.
Thompson's sister-in-law was diagnosed with breast cancer on Valentine's Day this year. In an effort to show support for his sister-in-law's fight, raise awareness about the disease, and draw attention to the importance of performing self-exams, he's navigating his way through the American Ninja Warrior course clad in a pink shirt.
Watching Thompson fly through the course is awe-inspiring. Using a combination of acrobatic moves and remarkable agility, he makes it look as effortless as a leisurely stroll through the park. Thompson took 12th place in the Southwest finals, which earned him a spot to compete in the national finals in Las Vegas, Nevada.
Thompson is slated to compete against 24 other competitors for the $500,000 prize and the prestige of being the first American to complete the final stage of this competition. But it won't be easy. The grueling competition will take place in the heart of the arid climate of the Mojave Desert.
While the G4 isn't providing many details on the actual course, we're expecting it to be brutal. Fans of the original series, Sasuke, have expressed concern that the American version of the final stage won't live up to the challenges of Mount Midoriyama in Japan. We disagree. The competitors may not have to contend with Mount Midoriyama's rain, but the Mojave Desert wind and energy-sapping heat will take just as much of a toll.
Since the show's producers aren't sharing details about the course we can only speculate on what will be included. Here are the top five course elements we'd like to see Thompson master:
The Bungee Bridge
The competitor has to cross a bridge consisting of four pieces of stretchy bungee material. We think Thompson would make quick work of this unstable challenge.
The Spider Walk
With nothing more than parallel walls to support him, we're confident Thompson has the upper body-strength to successfully make it through this narrow obstacle without touching the ground.
The Spider Climb
Similar to the Spider Walk, this obstacle is about hanging on to walls. The only catch: after 15 seconds, the walls spread apart, making it impossible for competitors to hold on. Since Thompson is a quick and nimble guy, we're confident he can master this obstacle.
Butterfly Wall
Thompson is a natural at this – jumping and grabbing a spinning vertical wall until he reaches the platform on the other side. Easy peasy.
The Warped Wall
Known as a "ninja killer," due to how many contestants fail on this obstacle, we think Thompson will easily master the challenge. All he has to do is scale a concave quarter-pipe by running up and grabbing the top of a 16-17 foot high wall.
Tune in to American Ninja Warrior Sundays at 9:00 PM EST to root Ryan Thompson on to victory.
CableTV.com supports Mr. Thompson in is efforts.  We look forward to seeing him tear it up in Vegas.  If you would like to follow-up and see how Mr. Thompson and "Team Danya" are doing please message guest clacker Tim Cooley  on Twitter.
Photo Credit: facebook.com/nob1e