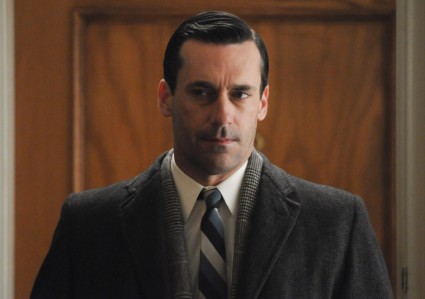 Upon first viewing, this season's finale of Mad Men didn't have quite the pop of the seasons before it. There were no surprise engagements, divorces, or new firms being created. I'm not even so sure how final this finale felt, but what I do know for certain is we have a long time to wait before the new season begins. With an end date being set for the show before this season was written, I wonder if the writers were more focused on setting up a larger arc to bring us to the end of the series instead of a solid single season arc. Nothing really felt wrapped up at the end of the episode. A few stories were brought back to the forefront, but for the most part, the story marched on. Pete's affair with Beth was revisited, Megan's mother was back in town, and we got to catch up with Peggy in her new position.
Pete really took a lead role this season, and I don't think it's helped the likability of the character at all. Pete has always struck me as a spoiled brat who is used to getting what he wants. When he finds himself unhappy or displeased, it seems like he goes out and makes bad choices. Whether it's manipulating Joan and the rest of the office to assure a Jaguar deal, looking for romance outside of his marriage, or even just angling for a better office, Pete never really comes out looking like the good guy. I can't help but feel bad for Trudy in all of this. If or when she finds out about his extracurricular activities (and you know the apartment in the city isn't going to help any of that), things are going to end very badly for Pete. Trudy does not seem the type to take that kind of behavior lying down.
I found the end of the episode was a little troubling. Having given in to Megan's acting wishes, Don went off to the bar to get a drink only to be propositioned by a younger woman. She asked if he was alone, and before he could answer, the episode ended. I'm honestly not sure how to interpret it. Was giving into Megan the last straw for Don? Is he done making a go of it as a faithful husband? Or, in reviewing Megan's screen test did he just realize that his wife is beautiful, charming, and perfect for he world of acting? I don't know which side I'm leaning toward.
Perhaps Don's guilt was just too much for him and he gave in to Megan for the sole purpose of giving something to somebody. Don was clearly still riddled with guilt over Lane's suicide. He was seeing visions of his brother, who hanged himself in the first season when Don tried to get him to go away, for fear of exposing his double life. Don felt responsible for that death, and no doubt feels responsibility for Lane's as well. Even the gesture to Lane's wife was seen through.
It was refreshing to see him run into Peggy and have the two of them reconnect on good terms. I was glad to see that Peggy was doing well in her job (and will probably land Virginia Slims). It was a great bit of symbolism for the whole season when she was on her business trip to Virginia. Obviously, she was excited, her first big trip, her important new job, and what does she see out the window of the hotel? Two stray dogs doing the nasty. As we have seen all season, when someone gets what they want, it never seems to be enough, or what they expected. It's the titular "phantom," that one thing that seems within reach, whether it's an acting job, recognition at work, the trophy wife, a mistress, or even just another hit of LSD. We've seen these characters chasing the phantom all season long … and to what end?
Every step of the way, Megan has gotten her way. First it was a job at the advertising firm. That wasn't enough, and she wanted to try acting. When that wasn't enough she needed Don to get her work in a commercial. Is that going to be enough for her? As her mother said she has the spirit of an artist, but is not an artist. Is she doomed to be miserable? How can she not take that out on Don? Is there any way that this relationship can work in the long run?
Then there's Pete. He's unhappy with Trudy, get's himself something on the side and then discovers that it's not that easy. There's nothing like a little electroshock to erase an entire relationship. How sick was it that Beth's husband knew she was thinking about another man and that's what led her to the treatment.
This has become a show filled with a lot of unhappy people (and we didn't even get to check in with the always miserable Betty before the end of the season). Thank goodness we got a little smile out of Roger before all was said and done. Don't get me wrong, I love this show, but I think I'm with Trudy after this season. "This doom and gloom. I'm tired of it." Here's hoping that something will give next season and we can get something a little more balanced.
What did you think of the finale? Were you underwhelmed? Did you see some hope where I didn't? Is a second floor to the office enough to keep you on the edge of your seat until next year?
Photo Credit: Michael Yarish/AMC