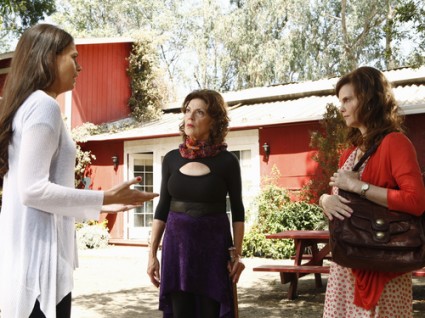 The opening scene of this week's Bunheads places Michelle and Fanny in an extremely awkward situation. Michelle has learned that she inherited everything from Hubbell — the house, the land, and the studio, to name a portion of it. (Turns out she also has a car, which got her into some trouble; a lake, which may or may not be filled with goose poop; and a guest house — the shining star in Michelle's eyes).
Fanny, of course, takes offense to this situation. Who could blame her? And instead of having the opportunity to get angry at Hubbell, she only has Michelle to place the blame upon.
And Michelle is equally frustrated. Does she even want this inheritance? Does she want the responsibility, especially when Fanny is involved? And does this mean she needs to make Paradise her home — permanently? Michelle seems to oscillate between disliking Paradise (feeling ostracized by Fanny is a major letdown, of course, as is having to explain why she didn't know about the private drive) and, alternatively, being tickled by its oddities (the ballet dancers texting her about winning the ugly foot contest, for example).
I understand that she would never want to displace Fanny. But what is she to do now that she is the owner of all this property? If you were in her place, would you keep everything or sell it? Or would you strike a compromise, like Michelle did?
We meet some new characters this week:
Claire, mom of Jenny/crazy real-estate agent trying to convince Michelle to sell her house and land
Grant, owner of "the private drive" and a luxurious mansion at the very top
Boo's mom — a very likable, funny character with whom Boo is obviously close
Sasha's mom — pretty much the complete opposite of Boo's mom
The Guest House, which I'm calling a character because, not only does it seem to have a life of its own, but also calls to Michelle in a way that no other character on the show has yet.
With the exception of a few unique moments (such as Boo getting a "lucky snood" as a gift), and some emotional scenes (for instance, the ones in which we are given a window into Sasha's disappointing family life), the third episode of Bunheads wasn't too spectacular. My least favorite scene was when Michelle accidentally turned onto Grant's private drive and endured a very unfunny scene with the tow truck guy. (She referenced Monty Python's Cheese Shop sketch, while I was thinking that the tedium of this routine was like that annoying children's song "There's a Hole in the Bucket," in which every possible solution is negated by another problem.)
I'll be sure to tune in next week, though, to see what the guest house and all its charms — a claw foot bath tub smack dab in the middle of the house, for one? — have in store for Michelle. Plus, I'm looking forward to those Nutcracker auditions.
Quotes:
"Hubbell and I were married for two days. That's it. Less if you count the time I was conscious, which was basically from valet parking to the nickel slots bathroom at Whiskey Pete's. So we're actually talking about 16 hours, tops!" — Michelle, reacting to Hubbell's decision to leave everything to her in his will
"The day I lost my husband was the worst day of my life. Of course, I lost him to the divorcee in jeggings across the street and not in a car accident." — Claire
"I occasionally used the 'I was in the school library and the janitor locked me in, and this is not a hickey on my neck; how could I get a hickey locked in the library all night?' story." — Michelle, talking about lies she told her parents when she was out all night
"And they believed that?" — Sasha
"Yep." — Michelle
"Were they morons?" — Sasha
"Yep." — Michelle
"All I know is that you are going to live here, and I am going to live there [the guest house], and tonight, we are going to get very, very drunk." — Michelle, to Fanny
Photo Credit: ABC Family