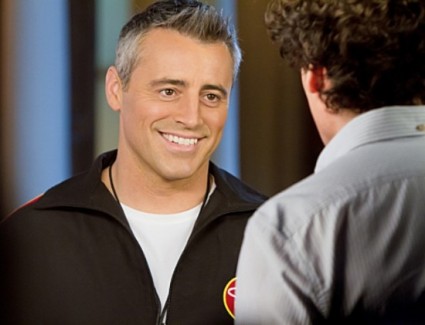 I love Episodes. I don't know that I can pinpoint what it is, but something about Matt LeBlanc's newest star vehicle makes me wish that channels like Showtime put on a twenty-four episode season. It's just that good.
And it's also so simple. LeBlanc plays "Matt LeBlanc," who is cast in the role of a sixty year-old headmaster of an elite boarding school. Only to make LeBlanc's casting make sense, the show is modified into a series about a hockey coach and his team. And now it's called "Pucks." That about sums up the plot.
Season two picks up four months after Matt slept with co-creator Beverly (Tamsin Greig), her husband Sean (Stephen Mangan) found out, and their terrible show became a hit. The Lincolns are still working together, but they're living apart, and neither one is on good terms with their leading man.
I've got to be honest with you: something's missing now that Matt and Sean aren't hanging out, and Sean won't give Beverly the time of day let alone the chance to whine at him. For all that Merc and Carol (Kathleen Rose Perkins) are a "romance" gone wrong, this is not a show about male/female relationships, despite Beverly's jealousy last season as related to Morning (Mircea Monroe). There's something to be said about a show that doesn't have to rely on the traditional pitfalls and pratfalls of relationships. And yet that's exactly the path down which season two appears to be headed.
But there is always hope (not least because the season is all of one episode old): Merc and Carol's absurd relationship continues unfettered. I love how Carol thinks Merc is "so good" to his wife Jamie (Genevieve O'Reilly) because Merc took Carol ring shopping for her. And not two seconds went by before she suggested Merc simply give his blind wife one of her old rings; she'll never know!
Then there's Matt getting intimate with Jamie in the Lapidus' own screening room. So clearly Episodes intends to perpetuate its distorted perception of reality, what we like to call Hollywood. That is definitely a good thing.
Still, it's worth keeping in mind that I don't believe this show will succeed with a traditional "trying to win him back" plot. Beverly and Sean yammering away at one another was a strength of the show in season one. Beware a situation that attempts to turn that convention on its head.
Meanwhile, I found the way the episode ended to be rather interesting. Morning makes a move on Sean, which was not particularly surprising … neither was his keen interest in reciprocating. But here's the unconventional part: usually in these situations the camera would have panned and located Beverly standing off looking melancholy. Instead it panned to Sean's car and the birthday gift Beverly had asked a PA to place there. It was an odd choice … but it also gave me hope that this season wasn't going to be about a girl chasing after a boy that she likes. That's a good sign.
Photo Credit: Showtime