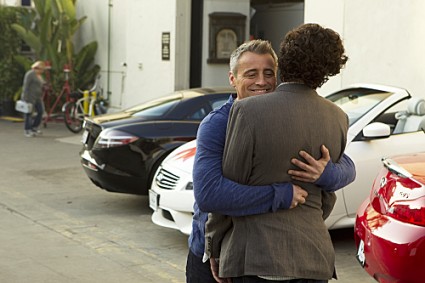 I've got to say, I'm kind of disappointed in Sean for sleeping with Morning on Episodes. Not so much because of his marriage — although I definitely don't buy into the idea that Beverly cheated on him so why not — as the fact that, after everything last season that presaged their hooking up, having them sleep together kind of feels like an easy destination.
I would have had more respect for a story line that didn't follow-up Bev's jealousy from last season — and Sean's brief indiscretion — with her suspicions effectively being substantiated. It's just too easy to imagine what's going to happen from here: Bev will find out about Sean and Morning, which will lead her to mourn the definitive end to her marriage (cue the reasonable argument that she has no right to be upset after what she did … even though in reality that's not license for him to sleep with someone else while they're still married). Then somehow Sean will become the one trying to repair their relationship.
That said, I loved how awkward Sean was with Morning as she got herself together and left his house. He has absolutely no idea how to approach a one-night-stand, which is a positive attribute of his. I also loved his completely transparent little speech at the crafts table … and how all the kids knew exactly what he was talking about. Good times.
I'm not sure how I feel about Matt weaseling his way back into Sean's and Beverly's lives with cars. I think it was a questionable idea to drive a wedge between them in the first place, but I do expect a little more effort be exerted to rectify what was a truly unforgivable situation. Beverly shouldn't be the only one who continues to be punished for their sin.
I did enjoy the hierarchy of cars that was implied by Matt and Sean's conversation: sleeping with someone's wife is an Infiniti infraction. You don't get a Bentley unless the wife got killed. I would love to explore the rest of that list.
I'm not sure where the Merc and Andy Button (Joseph May) thing is going. Presumably there's more to it than Merc offending someone enough to the point of a lawsuit. Will Andy's presence lead to something big? It better, because as fun as it is seeing Ira Buchman play against character, that joke got old fast. Merc is rather trying.
Where he could be interesting is somewhere in this Matt/Jamie story line. Good for Merc's wife for finally paying him back a little for what he's been doing to her for years. I don't know how the situation doesn't make it more impossible for Sean to forgive Matt, but we'll see how that plays out.
By the way, I'm totally with Bev and Sean: Myra Licht (Daisy Haggard), never again. She's been horrible since the first time she appeared on screen. I know some people find her funny … but I can't for the life of me understand why.
Did everyone notice the full set of Friends bobbleheads in Matt's dressing room? I'll take one!
Photo Credit: Showtime