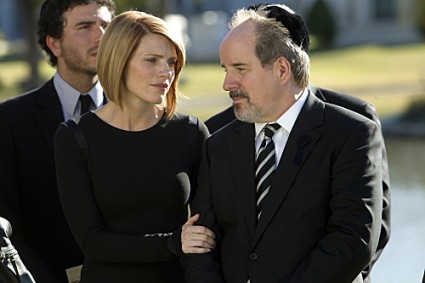 Merc's father is dead, and by far the most put out person in the entire situation was Carol. I loved listening to her complain about how she's the one who should be shopping for coffins with Merc, how she should be the one lending her shoulder for Merc to cry on. Carol's life is sad and pathetic, but there ain't nothing better than listening to a middle aged woman getting jealous of being there to comfort a loved one during a time of grief.
And it didn't end with Carol. The entire situation was a great caricature of reality, what with the main concern on everyone's mind being what to get Merc and not what he might be going through. And I have to agree with Sean: it does matter what the charity is. Helping homeless people get tattoos removed? I don't care if it's something the family chose … one charity is not as good as all others. Donating to the tattoo removal place does not say we share in your grief.
Morning was hilarious asking Matt what his funeral would be like: "You think if you died the other Friends would come to your funeral? Even Jennifer?" That was awesome, and I'm glad that Jennifer Aniston is the one that got put up on the "too famous" pedestal.
Matt's story about Gloria Haywood was great as well. First of all, you just knew that the story was going to include his sleeping with her (hello Susan Lucci!). And the fact that, at the end of the day, the valuable lesson he learned was how to get rid of crabs. That little story, in a nutshell, is what's so great about this show. It's so simple, yet blows most others right out of the water.
I'm curious where the Matthew Broderick angle is going to go. Will he guest star on "Pucks" as a savior to Matt's fading star? Is Merc going to try and land him at the network — on another show — thereby setting him up to overshadow Matt's star power? I'm not sure, but let me tell you something: for the great career that Broderick's had, the show could have used someone a bit more contemporary to Matt LeBlanc. Like, say, one of his Friends costars? Now wouldn't that be hilarious?
Even with a new wedge forming between Sean and Beverly, it's kind of impossible to imagine that they won't ultimately end up together (although I'd be impressed if the show disproves that formulaic conclusion). So all that further distance between them does is guarantee more distance for them to need to cover in order to get back to where they started from. And what that does is set us up for a longer and longer will they/won't they star-crossed lover thing.
And what's wrong with that? THAT'S NOT THIS SHOW! I've said it before, and I'll say it again: this show is anti-convention. And whatever network executive told the writers during season one to add a love story to the mix is totally misguided.
Episodes doesn't need it. End it abruptly and inconceivably if you must. But do this show the justice of doing it right.
Photo Credit: Showtime