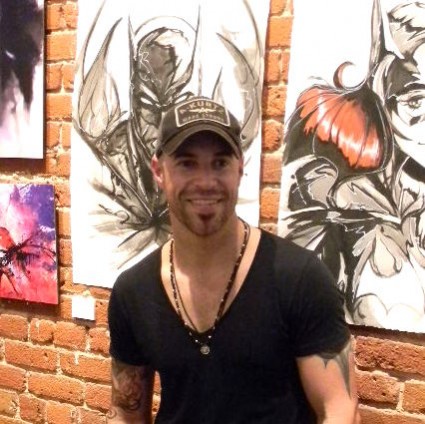 I'll be the first to admit: I don't get the bald thing. It's lost on me.
But … a lot of people do get it. Including many of the ladies. And I can tell you for a fact there are a lot who dig the baldness that Chris Daughtry sports.
Here's what I learned during an interview with him at the Michael J. Wolf Gallery during the San Diego Comic-Con: The guy is engaging, passionate, intelligent, introspective, funny and accommodating to a fault. I wasn't certain I would connect with him … but I did and I'm very pleased to have met him.
But a few of the most interesting facts I learned about Chris Daughtry that Saturday were that he is a huge comic book geek, he's a terrific artist in his own right and he's good friends with fan-favorite comic artist Jim Lee.
Tara and I were not only fortunate enough to chew the fat with him, but we walked away from the interview with some neat information on the man, respect for his craft as a musician and a few eye-openers, not the least of which the guy is multi-talented.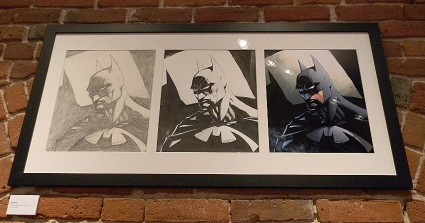 And one special treat for you: The original piece Chris contributed to the We Can Be Heroes cause he was promoting (thus, the reason he was showing his work at the gallery) was made into a lithograph. And we have a copy — exclusively signed and numbered in a limited edition of only 50 pieces — we're giving up to one fortunate commenter of this post! This full color, individually numbered lithograph is a 18″ x 24″ beauty of The Batman and was signed by both Chris and Jim that evening. This particular beauty is number 31 of the set.
And it can be yours simply for commenting.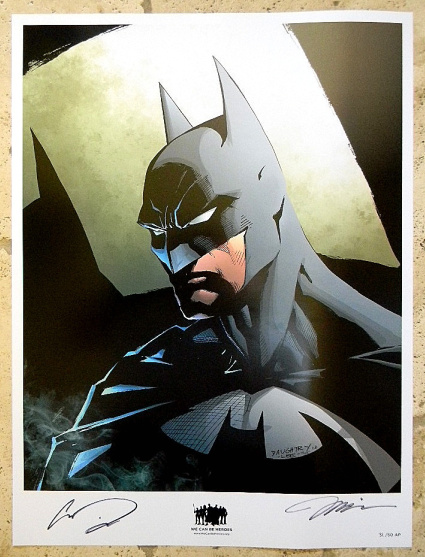 For the chance to acquire this spiffy collectible, all you need do is leave a comment below why you must have this lithograph. A rigorous, detailed selection process will ensue at the conclusion to determine a winner. (I'm hopeful we can get hold of the monkey that smacked fellow colleague Ivey upside the head to choose the lucky winner, but I'm not holding my breath.) Leave your comment below by Wednesday, August 1st at midnight PDT.
Want to double your chances at getting your hands on this prize? Get a second entry by following CliqueClack on Twitter (@CliqueClack) and tweeting the contest with the following:
I entered the #Daughtry #SDCC Batman lithograph contest!
You can too via @CliqueClack https://clak.us/t3d7k

From all the entries we gather, we'll pick one recipient completely at random and alert them after the giveaway ends. (Make certain your spam filters aren't blocking mail from @cliqueclack.com) Only one entry per person per method and you must have a valid U.S.-based mailing address. This giveaway is open to U.S. residents of 18 years of age or older only. Not following these guidelines voids your entry. Good luck!
Photo Credit: Michael Noble