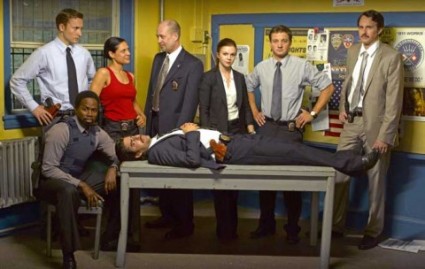 It's time to get back on the beat with the detectives of The Unusuals. This week, it's "One Man Band," where Casey (Amber Tamblyn) learns about the NYPD's favor system, Banks (Harold Perrineau) and Delahoy (Adam Goldberg) go shopping at the Murder Store, and there is literally a one-man band in the teaser. Yes, this show still has everything but the kitchen sink.
After working a double shift, Casey is met by Davis, who asks her to get the son of one of his clients out of a jam. It seems he was arrested for disorderly conduct just because he did something inappropriate toward a cop. Casey at first believes the resisting charge is just the cop's attempt to get back at the kid, and bends over backwards to get him sprung only to realize that he's the prime suspect (really, the only suspect) in Alvarez's (Kai Lennox) hit and run case.
The situation is an eye-opener for Casey, who learns that Walsh (Jeremy Renner) has ticked off a few fellow cops in his day, and that there will likely always be conflicts between her parents' blue-blooded world and her job. The shine comes off her job a little bit in this installment, though there's a sweet scene at the end where an exhausted Casey returns the trophy that Walsh handed over in order to help her out and faceplants the counter at the diner. There's a certain charm to the partnership between Walsh and Casey, and I know a number of people who were surprised that they never romantically got together.
Meanwhile, Banks and Delahoy find out from Mr. One Man Band that there's a secret Murder Store where people can go if they'd like to kill someone. And this place does indeed exist, complete with numbered aisles with appealing titles like "Body Disposal." Delahoy comes up with the genius idea of going undercover to see how many would-be murderers he and Banks can bust. It's all fun and games until Roxanne Tate arrives with a black eye and says she wants to end her abusive husband – then leaves with a large quantity of poison.
Though it always seemed to be looked upon primarily as a comedy, this episode is an example of how The Unusuals also introduced serious issues throughout its narratives. There's no doubt that homicide is a crime, but when the victim is a wife-beating waste of space, does he deserve it? How do we reconcile that gap between what is legally right and what we believe is morally or emotionally correct? The show offers its own resolution to the situation courtesy of Banks and Delahoy, but it also plants that question in our heads.
Before we get too serious, though, this one also contains one of my favorite pranks against Alvarez: when someone takes his entire desk and puts it into the holding cell, leaving him flabbergasted while Mr. One Man Band happily makes use of his new workspace and no one else seems to mind.
"One Man Band" is an effective hybrid of the hilarious and the thought-provoking (although given the recent tragedy in Colorado, re-watching this one was more than a little unsettling), and an enjoyable chance to see the partnership between Banks and Delahoy while the one between Casey and Walsh keeps growing little by little. It proves that there wasn't a weak link in the entire The Unusuals ensemble, and it only got better from here.
Missed a case? Check out all the entries in Re-Investigating The Unusuals.