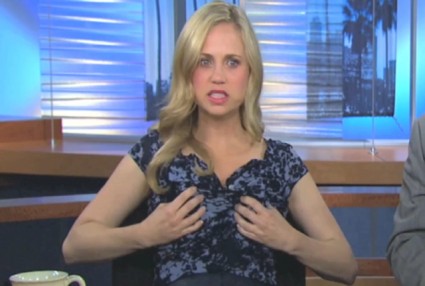 "The master understands that the universe is forever out of control."

Lae Tzu
While Michael Noble, who regularly reviews Wilfred,  is out hob-knobbing at the Saturn Awards this week, I thought I'd take over. I think I'm the only other staff writer who gets into the show, and after a meet and greet in the press room at Comic-Con? Well, it's even more fun to watch.
To me, Wilfred is a guilty pleasure. It's a mixture of disgusting, funny and sweet — sort of like this game I played at a baby shower once where there was a melted Snickers inside of a diaper.
This week, as Ryan and Amanda's relationship got a bit more serious, Ryan made his first attempt to introduce her to his friends. You always want your friends to like the person you're dating, right?
Of course Jenna's reaction is what's most important to Ryan, and although things start off at his dinner party well enough, it all changes when Wilfred and his date Bear enter the picture.
Amanda reacts pretty violently to Wilfred and proclaims herself "not a dog person." I don't know about you, but I cringed in anticipation of Wilfred's retribution. After all, we've seen what's happened to non canine lovers before.
And it's never good.
So wacky hijinx ensue (which reminded me of I Love Lucy with a much darker bent). Ryan tries to make everyone love each other by lying, there's wine spillage, Wilfred pulls Amanda's skirt down (it appears she went commando to this event) and the lie is outted.
In a nutshell.
Thus Ryan learns the lesson Wilfred put on the table this time around — you can't control people. You cannot force people to like each other. Either they do, or they don't.
This lesson I found hysterical coming from Wilfred. Have you ever noticed that he hardly practices what he preaches? Wilfred himself wouldn't leave Amanda alone until she accepted his comfort when she was crying. (By the way writers? I didn't buy that scene. If Amanda was truly as afraid and revolted by dogs as she said? She wouldn't have let Wilfred anywhere near her, especially when she was vulnerable and crying. But hey. It made for a neat way to wrap the episode up in a bow.)
I still stand by my theory that Ryan is dead and Wilfred is a guide leading him to his ultimate heaven or hell. I even asked director Randall Einhorn point blank about it at Comic-Con. He smiled slyly, and didn't confirm or deny.
In fact he said, "That would be an interesting way to go, wouldn't it?"
Yes. It would.
Oh! And for those of you wondering about the photo I chose for the review? Of course it's Jenna illustrating her new on-line nickname "Squishy Tits."
Priceless.
Photo Credit: FX