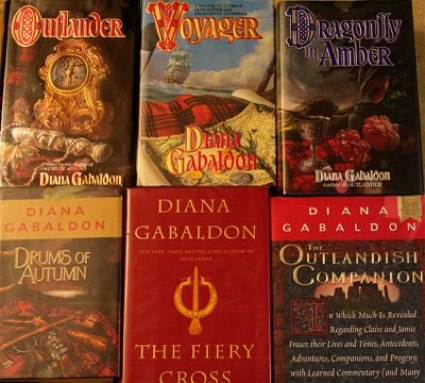 Something wonderful has happened. Something momentous. It's like gazing on the birth of a star. It's like having butterflies jump out of your chest at the sight of a hot lover. It's like having said hot lover  breathe words of lust in your ear.
Here it is: a couple of weeks ago, io9 reported that Battlestar Galactica's Ronald D. Moore (BSG fans may genuflect here at the mention of his name) will be turning Diana Gabaldon's Outlander book series into a television series.
For those uninitiated with the Outlander series, let me take your hand and draw you to the glory of Lake Gabaldon so that I may baptize you.
The Outlander series does not fit into any category. The series spreads its arms and legs, refusing to be pressed into service as only one genre. The Outlander series is, in fact, all of the following things: time travel, historical fiction, fantasy, romance and science fiction.
The Outlander series wages war, wages love and sex, wages sin and brutality. Outlander delights in medical oddities. Outlander twists you and breaks your heart and makes you feel like you can love with absolute passion and abandon.
The Outlander series never takes a step into space, but it will be like Battlestar Galactica in two key ways:
It takes a complete and serious examination of human suffering.
The characters are so engaging that you will find yourself thinking about their motivations and activities when the screen is off.
The io9 article states that RDM is shopping around the adaptation. Let's all say a little prayer that wherever Outlander lands, there will be a genuine motivation to see it succeed.
I spent many a night with both my loves: Battlestar Galactica and the Outlander series. I am thrilled beyond measure to have them meet.
I trust Ronald D. Moore will make a faithful adaptation of the Outlander series that will make Diana Gabaldon proud.
"So say we all," I just heard the crowd chant!
Photo Credit: Random House