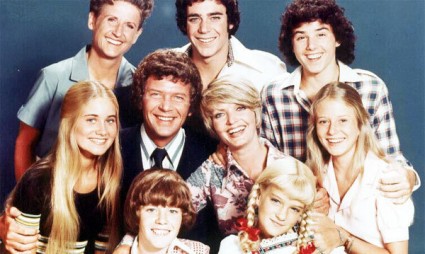 *sigh*
Another gimmicky regurgitation doomed to fail.
Can we tar and feather Vince Vaughn right now in anticipation of his latest idea, a Brady Bunch reboot? Huh? Can we … please, please, please, Marsha, Marsha, Marsha … ???
Here's a rehash Hollywood has maybe'd
Bringing in writers who'll come up with several pearls
Hoping for ratings gold, some such or other
Let's see what "gem" unfurls
Yet another disaster, I'm possibly afraidy
Convoluted with situations of its own
Four, eight, maybe twelve men, sitting in chairs of leather
The ideas all their own.
'Til the one day when the premiere got green lighted for the fellows
With Nielsen ratings ready to throw a big gut punch
That this 'boot would somehow fail to garner
Ratings points and back slaps at a celebratory 3 martini lunch
The Brady (reboot) Bunch
The Brady (reboot) Bunch
That's the way of the upcoming Brady (reboot) Bunch
Photo Credit: Paramount Television