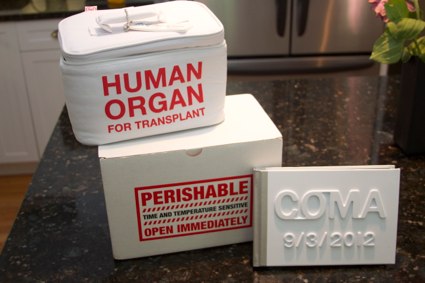 … And then I opened the package (pictured under the cooler) and, luckily, no human heart, kidney, lungs, penis, or other miscellaneous body parts. Nope, just the press booket and screeners. And here I thought A&E was going to outdo the Chicago Code press kit's absurdity. Pshaw! (In case you hadn't heard, we were sent a frozen Chicago-style deep-dish pizza, in a cardboard box with dry ice — incidentally, the pizza was awesome, but playing with dry ice with my 7-year-old son: more awesome)
You've got to admit, though — that's going to be one awesome lunch box I take to work every day.
Catch A&E's Coma miniseries early this November.
Photo Credit: Keith McDuffee