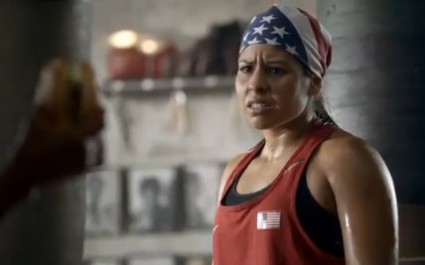 What were they thinking?
What were those Bozos (McWhoops … wrong clown) at Mickey D's smoking when they decided these dippy ads were a good idea to put on the air during the London Olympics? That they were a comical aside to draw additional revenue to the thousands of McFastFood establishments dotting the landscape from sea to shining sea? That we might chuckle at the airheadedness of Dogwaker Tara who is "training" Marlen Esparza or the groan-inducing advice of Barista Brian "training" Lolo Jones?
And, if that weren't enough, there are extended spots of these little "gems" … complete with even more highlarity to double us over with belly guffaws. *sigh*
Well … I, for one, am not amused. I wonder: Is anyone else?
Let's take a gander at the first one:
Let's stand around with a sandwich in one hand and boss around a world-class athlete while she sweats bullets. Brilliant. There's nothing amusing about this spot, nothing attractive about it in the least, nothing that would give me pause to say "Hey … I'd dig gobbling extra chow at the expense of the blood, sweat and tears that went into Marlen's efforts! Bully!"
"The simple joy of winning" voice over dude states at the end of the spot. Really? Not only is that presumptuous, it's downright selfish to think the work ethic of Olympic athletes would encompass our greed.
But wait … there's more. "Mr. Hydration" below is just as obnoxious as "Ms. Widen Your Stance" above:
And! As added bonuses, I'm providing the "extended cuts" of these two masterfully crafted beauties for your dining and dancing pleasure. Whereas Tara is nothing short of brainless, Brian is just a clueless dork. (While I wouldn't mind Lolo bringing Brian to his knees with a swift kick to his strawberry banana smoothie, I have to admit my favorite moment — and I use the term loosely, you understand — is watching Tara stuff her piehole with a monsterously slobbish bite of chicken sammich.)
Watch on, McDuff, and be further amazed at these shining examples of advertising:
I know, I know — pretty pathetic pieces. But now that you've seen them, I have one simple question for you to consider, straight from the House of Ronald McDonald itself:
Are you "lovin' it" … ???
Photo Credit: McDonald's