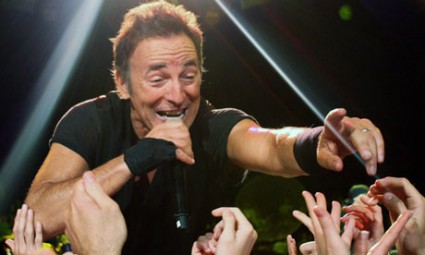 Tara: As you know Michael, Springsteen is one of my favorite artists, so imagine my chagrin when I heard about the disclosure he made to the New Yorker recently about the intense depression and even suicidal tendencies he's had all his life.
He talks a lot in the article about self-loathing and that got me thinking. If Bruce, who is obviously so talented and loved the world over, can hate himself? Is there any hope for the rest of us?
Michael: Well … we already know there's no hope for me, so I really don't apply to your question above. But … I digress …
To answer your question: Yes … of course there's hope. Why? Because, for any of us, hope is the only thing we've got going for us. If not hope, then what?
Interesting this revelation was imparted by The Boss to us at all. Somewhere in the unwritten manual of celebrity doings someone started a rumor: We must know … every … last … detail … about the ones we love to love, those we adore and look up to, they who we vilify. I don't know when this rumor started, I don't know by whom and I certainly don't know to what end it will lead, but it offers only one conclusive thought: No matter who they are, celebrities are just like us. And that goes double for Bruce.
But I've got this to say: Whether in the video below, the times I've seen him live or any other time on stage performing for his beloved fans, you'd never know it.

Tara: I agree. But he mentioned in the interview that the reason why he does the four hour marathon concerts and gets so into the live performances … is to lose himself. To get out of his skin. To feel better for a time. (Maybe not so much anymore, after years of therapy, but definitely back in his darkest days in the early nineties.)
Tara: And he also said about this interview that he did it to make people more aware of the prevalent issue of chronic depression in American society. To bring it to light and help his fans or the populace at large realize that they're not alone and that this is a huge problem that can affect anyone.
And at this juncture, I have to say. He talks about his parents' influence on him. Predominately his father who was never supportive or even there for him, due to his own mental illness. I can relate to this. Not with my father, but with  my mother. And I am so happy that someone as loved (by mass appeal) as he? Can come out and admit that if your parents don't believe in you (even now at his age of 62), it's hard to believe in yourself.
In Springsteen's case, he didn't believe he deserved his amazing success and accolades.
Michael: Familial monkey business — it can be the most influential of all … good, bad or otherwise. The real kick in the pants is when the doings of the ones closest to you can be so overwhelmingly influential they cause reactions you know are doing you damage. In Bruce's case, it appears there was more there: His inability to go to his father for the help he needed because of extenuating circumstances. And that can be even worse, struggling with the knowledge you know you're broken and don't believe you can go anywhere to fix yourself.
Tara: I hear ya. That's where the professionals come in. If a person has the guts the get past the stigma and stereotypes of being in therapy and actually make the leap. I think change takes courage.
Even if you're The Boss.
Photo Credit: 4umf.com