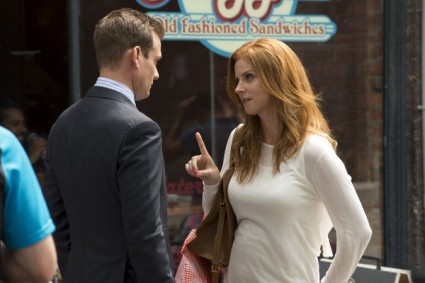 Suits has finally done it … an episode that I didn't absolutely love. Don't get me wrong "Asterisk" was good, just not extraordinary as I have come to expect from the show. It had some brilliant moments, but as a complete episode it was lacking something.
I usually love the talk; Suits does witty well and banter even better. Louis becoming Senior Partner and both Harvey and Jessica working him for his vote came across as a bunch of talk, instead of the wit we are used to seeing from them.
But … was that the point? Harvey was unsuccessful in closing Louis. Jessica was played by Daniel and wouldn't give into Louis for his vote. After some consideration, I don't think I was supposed to like it. The characters we have grown to love were put in an unfamiliar position — as underdogs struggling to come out on top.
Unlike in last week's "Rewind," this story wasn't about learning more about the characters, but pushing the buttons that we already knew existed. In that regard, it worked, but I missed the character development.
It wasn't all disappointing though, Donna's back! It didn't take much groveling on Harvey's part, but their meeting on the sidewalk was insightful. What happened that other time he went to her place? Hmm … inquiring minds really want to know!
Both Donna and Louis's entrances to the firm were hilarious. Loved it. Reminded me of the season premiere when Mike walked in all chipper after his dinner with Jessica. At least, Donna and Louis weren't headed for a potential downfall.
Despite the office politics, there was light — Mike and Rachel. I love the two of them together. As friends, lovers, whatever, I don't care. They are so sweet. They may have been apartment shopping for Granny, but what if they were looking for themselves. Aww!
And, Rachel wanting Mike to be there to hear her LSAT scores. Priceless. 172! She's going to be a lawyer. Will this help ease the truth when Mike eventually tells her his secret? He's going to have to tell her at some point, especially with her presumably being his rock over his Grandmother's death.
Poor Mike. Why did Granny have to die? Who does Mike have now? No one, really. Thankfully, it was Rachel who broke the news to him. Will this push them back together? I hope so!
Next week is the mid-season finale. Who will win the Managing Partner vote? Of course, I want Jessica to win, but then the war will be over. Daniel winning could make for a much more intriguing end to the season. Which would you prefer to see?
Photo Credit: USA Network