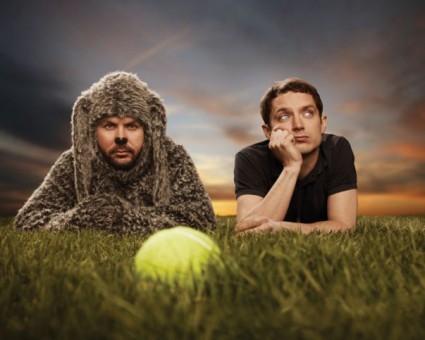 You never know what you're going to get. And that's the beauty of a show like Wilfred.
Jeremy, Ryan's boss, kills himself after losing out to his competition in the medicine game. The employees are certain to lose there jobs. Meanwhile, Wilfred has been munching on Jeremy's brains in a back room. (See? I told you you never know what you're going to get.)
A visit to Ryan's mother Catherine (Mary Steenburgen) is in order after she calls, informing him of the death of her beloved cat Mittens. Meanwhile, Wilfred has been eating away at Mitten's corpse. (Dogs pull that kind of stuff, you know.)
It turns out Kristen (Dorian Brown) has her baby during the episode, directly after attempting to give Catherine her medication. Meanwhile, after she is carted away by a paramedic, we find Wilfred has snacked on her placenta. (Dogs! You gotta love'em …)
Added to the mix — culminating in the creation of Ryan's new uncleship above — a somewhat adventurous road trip ensues with Catherine, her son and Wilfred … much to the detriment of a particular policeman's motorcycle.
What are we to make of all this monkey business? Well … two things:
The "service" (as this episode was named) came from Ryan in his attending his mother's needs and his sister's dilemma.
I couldn't help but notice the theme of death and life (from end to new beginning) in both Jeremy's and Mitten's demises and Catherine's rebirth along with Kristen's actual birthing.
See how these things work out?
Through the obvious distaste some might experience running rampant throughout this episode, there yielded sweetness and hope.
Imagine that.
Photo Credit: FOX