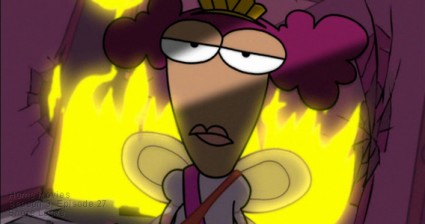 A highly-underrated show in the Adult Swim archives, Home Movies is one of my favorite not-so-child-friendly cartoons. I especially love the episodes that put the main characters in awkward situations we've all gone through as kids. Perhaps no episode is more awkward than "Shore Leave," and for a couple of reasons.
The episode focuses on Melissa and Brendon, who have separate disturbing weekend adventures. Brendon is involuntarily volunteered to spend the weekend at his classmate Fenton's house. Fenton and his mom are the definition of white bread creepy to the point where they eat rice-flavored rice for dinner. He also goes to bed at 6:30 and forces Brendon to make "video films" with him where he's the best and Brendon's the worst. Fenton is the kid that tries either tries a little too much or tries too much and then screams at you to act like him. It's not surprising that Brendon is afraid for his life and hence creates a Blair Witch-esque video in the closet chronicling what he assumes are his last hours.
On the other side of the coin is Melissa, who is involuntarily volunteered by her dad to join the Fairy Princess Club to try to tap into her girlier side. It's a Girl Scout-like organization that's 75% selling Fairy Princess merchandise at the mall and 25% being "coached" on sales techniques. Her sales coach is coldhearted and nasty both when telling her what she did wrong and as the possible mean mall-goers.
Oh, and don't forget when she actually gets to the mall! Everyone ignores the desperate girl who just needs someone to buy a "fairy cloth" so she doesn't get punished. And then good old Coach McGuirk comes to make things worse. The two have probably my favorite lines of the whole episode: "Coach, are you drunk?" "Yeah, that's why I came to the mall!" See, this is why I love H. Jon Benjamin.
Things come crashing to a head when Brendon and his camera accidentally walks in on Fenton's mom coming out of the shower. Next comes Fenton assuming Brendon is assaulting her, pushing Brendon down the stairs and yelling, "RUN, MOMMY, RUN!" The fairy coach brings Melissa to her most desperate and she manages a Robert Rodreguiz-like escape complete with a fiery explosion and mariachi soundtrack. The two escapes include a latenight diner run and a rare moment with McGuirk and Jason (both voiced by Benjamin) acknowledging each other. However, the episode officially ends with McGuirk nabbing Brendon's tape and trying to register FentonsNakedMom.com, only to find out it's been taken.
Season three got into some of the best episodes of the series and this was a great season opener. We got to see them take more chances with the storytelling styles (especially seen in the mariachi moment) and the awkwardness was genuine, which made it that much funnier.
Photo Credit: Shout! Factory