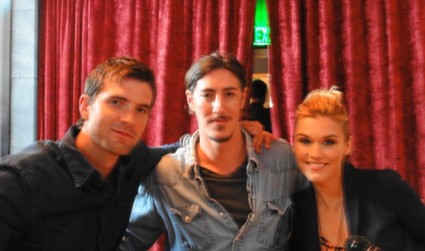 The very long wait for season three of Haven is coming to an end. The show returns one month from today on Syfy. To hold you over, we got some tidbits from the cast about the upcoming season and much more.
Emily Rose, Lucas Bryant and Eric Balfour sat down to discuss Haven during San Diego Comic-Con last month. Unfortunately, there wasn't an official Haven panel at the con, but they attended a party thrown in support of the show and met with press in San Diego.
It was immediately clear that these three actors have bonded over their two and a half seasons of filming in the remote coastal area of Nova Scotia. At one point, Eric even decided to steal a bite of Lucas's meal. They were a delight to meet and to interview.
Here are some of the topics that they discussed:
How many seasons does Haven have in it. They revealed the writers know the ending already.
Bonus material for Haven season 2 DVD
Season three guest stars including, EP Shawn Piller's dog
No Christmas episode, but there will be a Halloween episode.
Overall theme of season 3 — answers about the mythology. Audrey will have a time clock this season. Reveal the history of the town, and some storylines will conclude.
There will be a "deadline of sorts."
Audrey discovers more about all the different people that she is.
Learn more about the troubles, what they are, the scope of them, etc.
The scenery of Nova Scotia where Haven films
The move from summer to fall seasons
Eric's favorite episodes
Emily's involvement in a Los Angeles theatre and their side projects when filming is over
Haven returns on September 21st at 10 pm ET/ 9 pm CT on Syfy. And, the Haven Season 2 DVD is available on September 4, 2012.
Photo Credit: Carla Day