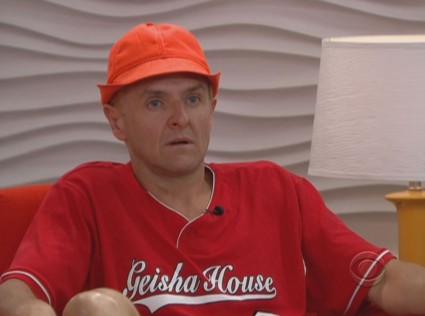 The Big Brother House Guests are still feeling the repercussions of Shane's awkwardly worded nominations earlier in the week, because Frank and Boogie don't seem to understand that this is a game where you have to take out your strongest competition. Frank pointed out that he's never voted once since the season started because he's been on the block four times and HOH twice. And he still questions why he's nominated. Luckily, the guy seems to be some kind of math whiz (or can count really fast) and saved his hide in the POV competition … meaning he will actually get to vote this week!
Someone not voting, however, is Boogie. Janelle was right when in her exit interview she called Boogie a loser. Let's just add big baby to the list as well. I've never seen anyone else go on such a witch hunt to find out why they were nominated (or who influenced the HOH). The second the nomination ceremony was over, he and Frank started to ponder who in their Silent Six alliance convinced Shane to put them up. Was it Britney? Someone who's name came out of Boogie's mouth when asking Ian who he would nominate if he won HOH? Was it Dan, Boogie's biggest threat in the game? While Boogie annoys the heck out of me, it was hilarious watching him try to sniff out who ever it was that whispered his name into Shane's ear. It's even funnier knowing that he has absolutely no clue that Ian is the culprit! Little unsuspecting Ian turns out to have been the mastermind behind Boogie's (hopeful) demise.
And it's admirable that the Quack Pack is doing all they can to protect him. Poor, clueless Shane is terrible at lying though, and if anyone blows the secret of the Quack Pack alliance, it will be him. He's not a quick thinker when confronted, and Britney briefly became Public Enemy Number One when Shane threw her under the bus by saying she was the one who told him that Frank and Boogie were coming after them. Except he didn't see that as throwing her under the bus, and Britney had to do some quick damage control to get that target off her back. But doing that put Dan in Boogie's sights, and while he denied having any part in the nominations he took the heat to protect Ian. But how much longer can that protection last?
Unfortunately for Dan, that protection is probably going to cost him in the next round of nominations — if Frank should win HOH again — because Boogie's desperation to stay had him crawling to every person in the house to put a bug in Shane's ear that they all wanted Dan out. Boogie's ploy, though, seemed to have fallen on mostly deaf ears. He tried to sway Shane to make Dan the replacement nominee, he went to work on Jenn, Joe and Ian (still believing he has Ian's vote … and will Ian's cover be blown at the eviction ceremony when the votes are cast?), and then he even "cried" for Britney … after saying in the DR how sharp she is, but still thinking she'd fall for his crocodile tears. Her blank-faced reaction was priceless. But of all the House Guests, the only one to actually talk to Shane about Dan (at least the only one we saw) was Jenn. And guess what that got her — a seat next to Boogie, who was stunned that his little game of manipulation did not go his way.
And he's been working the house all week to save his sorry ass, and it's going to take a miracle to keep him in the game with certain votes from Britney, Dan, Danielle and Ian against him. Frank and, most likely, Ashley are the only sure votes to keep him, and I'm pretty sure Joe will vote to evict as well (especially now that Joe has allegedly claimed that Frank or Boogie cheated during the POV competition, as seen on the live feeds when the producers weren't busy cutting them off so we couldn't actually be that fly on the wall Julie promises us we can be). But with Jenn out of play for a vote, Boogie doesn't really stand a chance of staying. And if he does get the majority vote to stay, then they may as well hand him the check right now. And really, do any of these people think they'll beat him in the end if they keep him? Why do they want to keep him around? This isn't Survivor, where you need a strong player to help the tribe win challenges. Why is it too early to make a "big" move with only a few weeks left in the game? Getting rid of Boogie now is the best move they can make.
Photo Credit: CBS