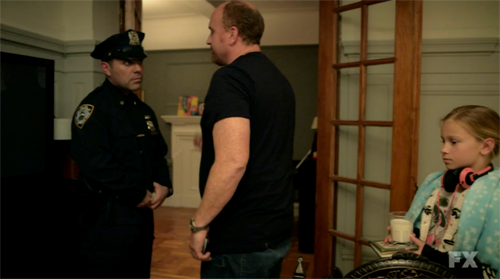 When Louis dreams of lost love on Louie, is it lost love, lost opportunity, or lost loss? Perhaps when Liz (from an earlier episode this season) disappeared, it was for the best. Is Louis really better off searching for his literal dream girl? He runs into Liz's replacement at the bookstore, one Jeanie (also no last name), played by Chloë Sevigny. Her reveals? "I know I'm weird" and "You can find her" — not only that, but Louis MUST find Liz.
"You have to", she tells him over and over. They are meant to be, at least maybe. But can we really trust the word of Jeanie, who pleasures herself in public then reveals that she's married. The idealized romance she's craving isn't in her real life, but the very idea of it gets her off. So when she said earlier in the episode that "she gets off in 20 minutes", was that foreshadowing? Liz is something Louis sees in a dream, an intangible reality, where she confesses her love of him. But is she someone he could ever have? Can Louis change himself to realize the truth?
In the second segment, his older daughter Lilly is the one going through changes. Called a "nerd" and probably worse by other girls her age, she mopes and sulks around. Even though little sister Jane says doesn't mind, Louis can't help but feel adrift and without an idea of what to do. Picture that carousel, with Louis' big hopeful face and Lilly's distant frown. She's too old for such things to work. When Louis takes a break in the bathroom to escape for a moment from reality, Lilly seemingly disappears, and Jane thinks she's left the apartment. It's every parent's worst nightmare — not knowing where your kids are.
Quite a contrast to when Jeanie tells Louis he "must" find Liz, the metaphor for what he thinks he wants. What he really cares about is what he really needs to find. Did you catch that language Jane has been learning from a friend? I couldn't quite make it out. But this is an episode about the dangers of selfishness and myopia — Louis ends up being the cause of his own pain, because everything leads up to Lilly "leaving". In reality, she just needed some time to herself to think things through. A hard lesson for Louis to learn — and he's trying to lessen embarrassment but only makes it worse when he tries to tip the police officer. Hilarious, but awkward. Money can't solve all his problems.
The tag was about safety and trust, and it began with the idea of life as a story being shorter than you might expect. The former led Louis to worry about missing out on life with Liz, but the latter was about his struggles to protect his kids but still let them grow up. Always so close, Louis.
Photo Credit: FX