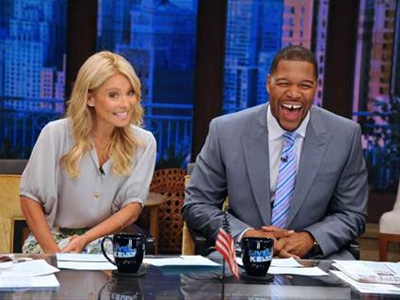 When I was a little kid, I set out a list of goals to accomplish in life. While most of my friends craved toys and video games, I yearned for a bit of global recognition. Needless to say, that isn't quite how my life turned out — at least not yet. I distinctly remember fantasizing about being an illustrious writer and going on morning talk shows to promote my prized paperbacks. One of those talk shows was Live! with Regis and Kelly.
Ah, what a vivid imagination I have! You know, it's been nearly ten months since Regis Philbin left the show and I am still in shock. After all, the man has been with the program since 1983 — before I was even born. Alas, it seems Kelly Ripa will finally be getting a new co-host. If you've been keeping up with the news then it shouldn't come as a surprise to you that Philbin's replacement is former NFL player turned actor Michael Strahan. I have but only one thing to say …
What the hell?
Let me backtrack for a second. I think it's common knowledge that Clacking in Color is all about diversity. I'm happy the brother is employed. I'm all for minorities getting more screen time on TV. We could use it. However, is Strahan the right choice? That's my query. I'm both excited and confused by this announcement. Make no doubt about it — I believe that Strahan is a talented man, but to replace Regis? Hmmm … Clearly the show must be going in a different direction.
Sometimes change can be good. Other times it can be bad. I applaud the producers for trying something different, but perhaps it's too bold of a move. Here's my thing — Philbin has been in the game for decades. The man has multiple Emmy awards, a slew of other accolades, and has gone through several co-hosts in his tenure as the main host of the program. Philbin is experienced. He's seasoned. He's great. Strahan, on the other hand, is … well … not so seasoned. I'm not knocking him. I'm just stating facts. After all, it is true that Strahan does have some interviewing skills being one of the clever analysts for Fox NFL Sunday, but I feel that there is a difference between being a sports commentator and a talk show host. You don't see Oprah volunteering at ESPN, do you?
Maybe the producers fell for Strahan's charisma. I'm grasping at straws here, people. Go with me. I've seen Strahan give interviews and he does strike me as being rather articulate and he does have a funny sense of humor so there's that. However, Ripa is known for being just as funny — even outrageous. How will two funny people work together? Shouldn't there be a straight man? Heck, I don't know. I don't work in television. I just write about it.
In last week's column, I mentioned Lucy Liu being cast as the new Watson in the latest Sherlock Holmes adaptation. I urged the haters to give her a chance before jumping to conclusions. Perchance I should take my own advice with Strahan being Philbin's replacement. The twenty-fifth season of Live! is set to kick off in September with Strahan making his debut. I'll remain optimistic. For all I know, he may be just what the doctor ordered.
And when have doctors ever been wrong?
Photo Credit: DADT