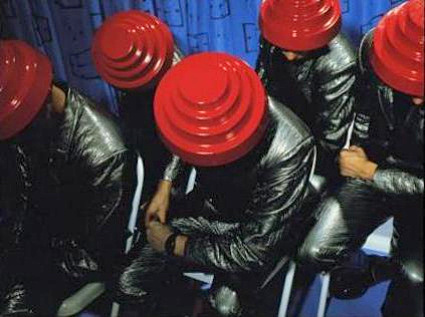 If ever there was ever a match made in heaven — or at least a match made where the fates "conspired" to put a seminal band on a seminal 80's television show — it was the group Devo who performed on the show Square Pegs.
Devo is one of my all-time favorite bands. Ask me a group whose music catalog I would pick to be stranded with on a desert island and theirs, without question, would be in my Top 5. Square Pegs was a quirky, short-lived little offering starring Sarah Jessica Parker and Amy Linker written by Saturday Night Live alum Anne Beatts about freshman awkwardly trying to fit into high school.
I've never been witness to "Muffy's Bat Mitzvah," the particular episode on which Devo appeared, but, thanks to the wonder of YouTube (something that wouldn't become a staple for a generation at the time SP was introduced), I've been able to finally see it. The featured song — "Good Thing" — was a minor hit at the time for Devo. Lip sync'd and faked by Mark Mothersbaugh and the band, the group "performed" sans "suggestive" elements that were part of the original video:
So why all the hoopla over Devo's appearance on Square Pegs? Because, in the grand scheme of things, they were the "go to" band of the decade, plopped into an unknown series that would not only garner cult status but would be remembered by the 80's generation with fondness and effectively launch the career of SJP.
Devo is still going strong today with a bevy of upcoming late summer concerts scheduled. (Yes … I heartily recommend their shows. Check your local listings.) And where, I ask you, would pop culture be without Sarah Jessica Parker's whiny drone on Sex In The City? (I'll keep my answer to myself …)
Notes:
Quote:
"Like, who are 'Devo' … ??? Are they guys?  'Cause I only go and see guy bands. " — Jennifer
"They're guys. They're weird guys … but they're guys …" — LaDonna
Photo Credit: Devo Inc.