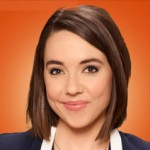 Wrong.
Wrong, wrong and wrong.
I've been wrong more than right this season of MasterChef. And what that does is make a more interesting go round of the show for me. Of course, it's a little frustrating I'm getting things wrong, but that's half the fun of reality television and the unexpectedness of it.
I was wrong about Frank making it into the upper crust of the competition but he did make it into the Top 4 … nothing to sneeze at. When Frank left, I set my sights on Becky to finish. She's done a lot in the MasterChef kitchen, won a lot of challenges along the way and has prepared a lot of stunning dishes. But she stumbled at the wrong times and that's precisely why she got eliminated this week. Josh? I haven't really been on board with him the entire season, but I have to admit he's redeemed himself after getting knocked out by the incredible, edible egg a couple months ago.
And then there's Christine. I pulled no punches when I stated at the beginning of the season "There's just no possible way" she could get into the later episodes of the show. Furthermore, I said:
"I've seen the work that's put in during the challenges, the wear and tear and intense concentration needed to put out product which bests your opponents. It's freakin' difficult when you can see 100%. So just how does she believe she's going to pull it off with a butcher's knife and a whisk and a cane? I have no clue. It might be interesting to watch, but I really don't think she'll go very far."
And lastly? "If ever there was a time I would love to eat my words, this would be that time. Stay tuned." Well guess what? I've stayed tuned, you've stayed tuned and, going into next week, we'll have witnessed a pretty incredible journey by the 32 year-old Texas student. In the end, the journey might be that much more incredible if she can best Josh.
It's possible. And if it happens, it won't be because of blind luck.
Notes:
Going into the Top 3, you have to have a plan. And you have to execute it. Becky simply didn't have that plan. And it tripped her up. She massacred her fish fillets, she switched gears, she doubted herself. One of the worst things you can do is let doubt overtake you. Do so and you're done.
I had hoped the returning contestants were the ones who were going to help do the judging between Becky, Josh and Christine's dishes. A bit too important a contest at that stage to let it fly like that however when you think about it.
Photo Credit: FOX