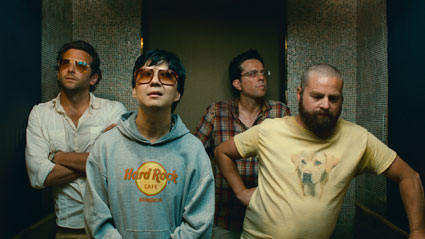 In the follow-up to the record-breaking hit comedy The Hangover, Phil (Bradley Cooper), Stu (Ed Helms), Alan (Zach Galifianakis) and Doug (Justin Bartha) travel to exotic Thailand for Stu's wedding. After the unforgettable bachelor party in Las Vegas, Stu is taking no chances and has opted for a safe, subdued pre-wedding brunch. However, things don't always go as planned. What happens in Vegas may stay in Vegas, but what happens in Bangkok can't even be imagined.
I am a latecomer to The Hangover, having only watched it in preparation for the sequel. I mean, I've heard nothing but great things about it and it is the highest grossing R-rated comedy in history, but watching the movie at home on DVD … well, it just wasn't as funny as I expected it to be. I thought that maybe it was because this was one of those movies you have to see with a crowd, and I'm still coming down from the sheer hilarity of Bridesmaids. I got a couple of chuckles from it, but I just didn't think it was fall out of your seat, gasp for air funny. Needless to say, my expectations for Part II were low, at best.
And then the movie started … and I felt like I was re-watching the first movie all over again! The location is different and Stu is the one getting married (and not to Felicity Shagwell as he should have … since they were already married) and this time they've lost Stu's soon-to-be brother-in-law Teddy, but everything about the sequel is taken from the blueprint of the first movie from Phil's phone call to Doug's (now) wife to the flashback to the realization of where Teddy is. And instead of a tiger in the hotel room, there's a monkey who really steals the show. Even Senor Chang … I mean Mr. Chow somehow manages to get worked into the plot, and there are several actors from the first movie playng new roles in this one (and one "surprise" cameo from someone also in the first movie).
Even though I really didn't like the first movie, I appreciated the Memento-like puzzle of the plot and how the guys had to keep retracing their steps to figure out what happened and where they left Doug. It was really intricate and as far as I could tell, the pieces really fit together. In this one, the guys are left more to flounder in Bangkok with only a hint of a clue now and then to help them along. It was actually pretty frustrating, especially at one point when they learn that they basically destroyed a city block of nightclubs, shops and police cars but there is only a fleeting glimpse of the action from a cell phone video. In the first movie, each clue led the guys to their next destination, but this time each clue seems to lead to a dead end that results in either Phil or Stu screaming in frustration … and that got real old, real fast.
By the end of the movie I figured out why I really wasn't laughing when other people around me were … none of these characters is truly likable. Phil is just a miserable person, Stu is boring (until he gets drugged and then he just becomes an a-hole), Alan is just dangerous and Doug is … a non-entity (poor Justin Bartha really gets the short end of the stick in both movies). These are not people I have enjoyed spending four hours of my life with. There's nothing endearing about any of them as compared to, say, Kristin Wiig's character in Bridesmaids. For a movie like this to really work, you have to either like or identify with someone in the movie and I don't. I actually feel like I have a hangover now after sitting through the movie and it's not a good feeling. When the funniest part of the movie are the stills that play during the end credits, then there is a major problem. I know there are a lot of people out there who think the first movie is a comedy classic and will probably enjoy this one, but these are two "hangovers" I'd much rather forget.
Photo Credit: Warner Brothers