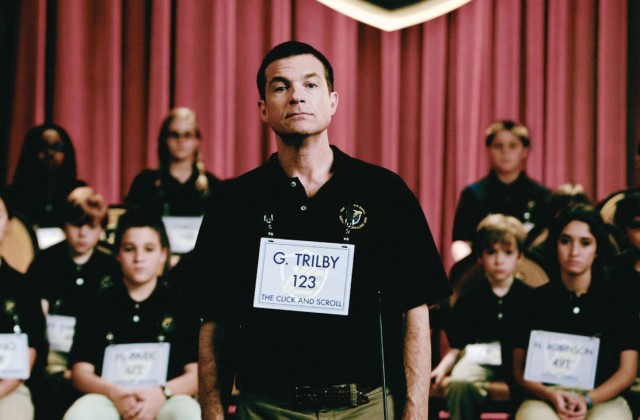 Jason Bateman makes his feature directorial debut with the new R-rated comedy 'Bad Words,' and we want to send you to a screening in Baltimore or DC. Find out how to enter the drawing!
CliqueClack has partnered with Focus Features and Allied Integrated Marketing to offer readers in the Baltimore and DC areas an opportunity to attend an advance screening of the new comedy Bad Words starring Jason Bateman, Kathryn Hahn, Rohan Chand, Ben Falcone, Philip Baker Hall and Allison Janney.
Bateman stars as Guy Trilby, a 40-year-old who finds a loophole in the rules of The Golden Quill national spelling bee and decides to cause trouble by hijacking the competition. Contest officials, outraged parents, and overly ambitious 8th graders are no match for Guy, as he ruthlessly crushes their dreams of victory and fame. Guy zealously plays to win the prize money at stake, outpacing the pre-teen field in match after match. Guy is aided and abetted in qualifying for the matches by reporter Jenny Widgeon (Hahn), who has the exclusive rights to Guy's story and has liaisons with her subject. Guy rudely steps up his game to embarrass and outwit the competition's imperious chief Dr. Bowman (Hall) and administrator Dr. Deagan (Janney), who are intent on having him eliminated from the field.
Continue reading 'Win passes to see Bad Words in DC or Baltimore' »
Photo Credit: Focus Features