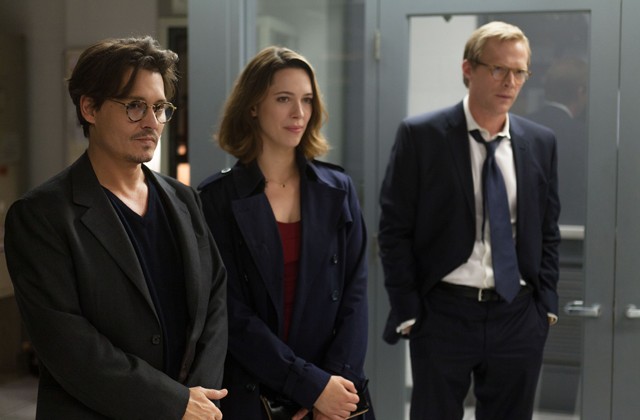 'Transcendence' wants to be a smart, thrilling, what-if sci-fi flick, but like an overworked hard drive, the whole thing just ends up crashing.
We've all seen movies featuring sentient computers: 2001: A Space Odyssey, WarGames, Eagle Eye, Demon Seed, Colossus: The Forbin Project, TRON, and of course the Terminator movies. And we all know how badly things usually go once the computers become more intelligent and "alive" than their human counterparts. But what would happen if a human's intelligence and essence were to be uploaded into a super computer?
That's the question posed by the new sci-fi thriller Transcendence. Johnny Depp stars as a computer genius who has helped develop a supercomputer known as PINN, a creation that is as "alive" as a machine can be. But a fringe group of techno-terrorists believe that PINN and other pieces of technology like it threaten our very being on the planet (kind of like The Terminator's SkyNet), so they bomb several computer labs and attempt to assassinate Depp's Dr. Caster. He doesn't die from the shooting, but it turns out the bullet was laced with radioactive material that was detected too late to save him, so his wife decides to take the PINN project one step further and upload her husband onto the hard drives. What could possibly go wrong?
Continue reading 'Transcendence is a dumb movie about smart people' »
Photo Credit: Peter Mountain/Alcon Entertainment