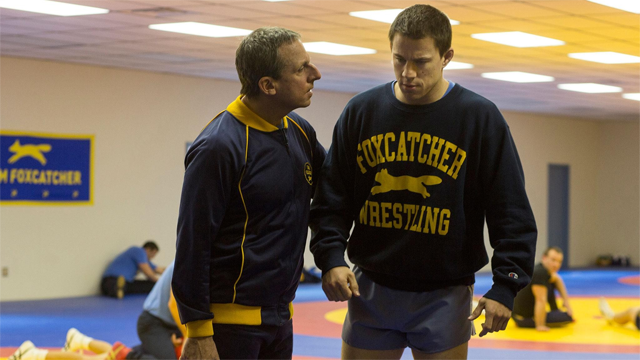 'Foxcatcher' deserves the accolades it's getting for the acting, but the movie is ultimately quite disappointing.
Biopics, my old foe. Why do you always try to hurt me like this? I want to like you, I want to know more about the interesting people of history. But then you go and make me all … yawn.
It is funny how envy works. A person can seemingly have a great life but be envious of one particular thing about someone else. Maybe it's their job, or their family, or their face, or even their personality. Looking in from the outside, you may never understand it. Of course, an exception must be made for the mentally disturbed, because their behavior is not understable except by the mental health professionals, and perhaps not even them. I'm going somewhere with this, trust me.
Foxcatcher is based on a true story, where down on his luck Olympic wrestling champion Mark Schultz (Channing Tatum) is asked by the odd but obscenely wealthy John du Pont (Steve Carell) to lead a team for the 1988 Olympics in Seoul. Mark is certainly talented, but he wasn't doing well despite his gold medal win; all he really had was the support of his kind but older brother Dave (Mark Ruffalo — it's a bit confusing, but Mark doesn't play Mark here). Dave basically raised Mark and is a Gold Medalist himself, and is doing very well in life, getting great job offers and has a loving wife and kids. So Mark is craving to make something of himself, to be his own man and win the championship again, to prove he wasn't just a flash in the pan. But John du Pont is a very odd person, obsessive and mercurial, supportive at times, creepy at others, and legitimately abusive still others. It's clear that John suffers from dealing with his overbearing mother (Vanessa Redgrave), who hates the sport of wrestling and thinks of it as a "common" sport.
Continue reading 'Foxcatcher tries to use great acting to hide a weak movie' »
Photo Credit: Sony Pictures Classics