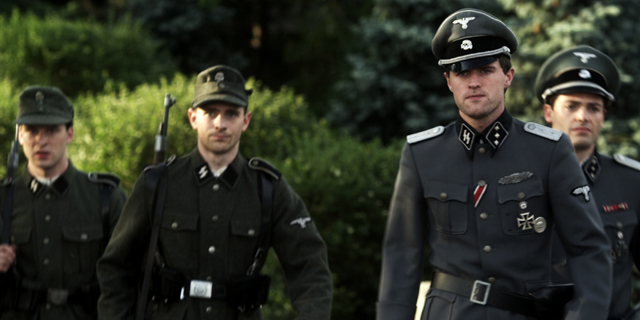 CliqueClack wants to give our Boston fans a chance to attend the advance screening of 'Walking With the Enemy.' Find out how you can win a pair of passes!
CliqueClack has partnered with Liberty Studios to offer readers in the Boston area an opportunity to attend an advance screening of the drama Walking With the Enemy, starring Jonas Armstrong, Hannah Tointon and Ben Kingsley.
Inspired by the true story of Pinchas Rosenbaum, Walking With the Enemy begins in the final months of World War II.  The Nazis are desperately trying to enact their genocide against Jews in Hungary, who had been protected from persecution until their leader Regent Horthy (Kingsley) was forced to bow to the will of Hitler and Eichmann. Hoping to find his displaced family and avoid being placed in a labor camp, young Elek Cohen (Armstrong) undertakes extraordinary measures to survive, using a stolen uniform to pose as a Nazi officer so that he can reroute Jews to safety and disrupt the activities of the German occupiers.
Continue reading 'Win free passes to see Walking With the Enemy in Boston' »
Photo Credit: Liberty Studios