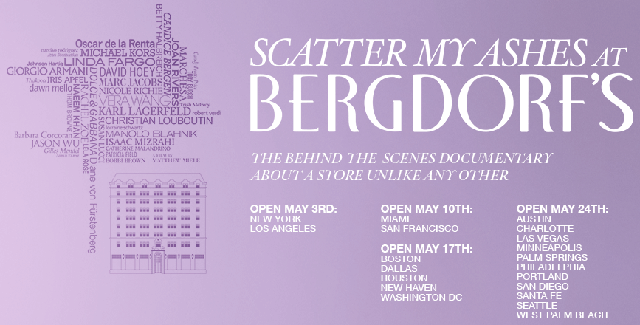 'Scatter my Ashes at Bergdorf's' makes the Manhattan super store accessible through behind-the-scenes interviews with sales staff, designers and family. Did you know Yoko Ono spent $400,000 of John Lennon's money on furs for Christmas Eve?
I recently started obsessing over clothes and fashion to a level I can't explain. While I haven't hit the arena where it affects my pocketbook, as a former frequenter of Old Navy, Gap Outlet and TJMaxx, I don't understand why my style shifted from faded denim overalls to quirky business professional. Maybe it's the conundrum that occurs when you pass your twenties and grow more interested in presenting yourself for yourself as opposed to your date. But, after chronicling my ongoing love affair with Breakfast at Tiffany's, searching for the best Birkin bag not-knock-off and uncovering the perfect Little Black Dress, of course, I had to cover Scatter My Ashes at Bergdorf's.
Scatter My Ashes at Bergdorf's is a documentary about the iconic New York department store's relationship with its fashion designers as well as a behind the scenes look at key staff that interact with the public through sales and window dressing. For the screening, in honor of Bergdorf, I threw on my very best Melie Bianco from Target, dusted off my best priced-down Banana Republic, and shook out my favorite almost-Noelani Jelly flats.
Continue reading 'Scatter My Ashes makes Bergdorf Goodman accessible' »
Photo Credit: Bergdorf Goodman