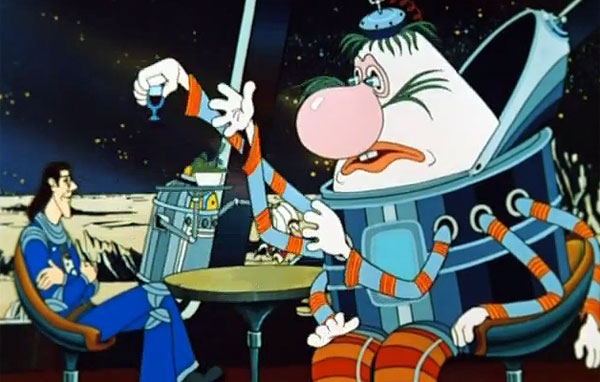 Thanks to the Internet, finding obscure childhood favorites is now easier than ever before. Join me as I take a look at 'The Mystery of the Third Planet,' a rare animated gem that comes from Cold War-era Russia with love in this week's Throwback Thursday installment!
Henry Wadsworth Longfellow once observed, "The heights by great men reached and kept were not attained by sudden flight, but they, while their companions slept, were toiling upward in the night." Have you ever tried to look for a needle in a haystack for the one you love? Maybe you have, but I'm betting most of you out there haven't. We go about our daily routines toiling our lives away to achieve a piece of that poetic greatness Longfellow described, only maybe occasionally taking time out to make those we love smile.
Several months back, I was blogging about a space cartoon (Hanna Barbera's Space Stars) and reminiscing about a title whose name had escaped me. I erroneously thought it was titled The Third Planet from the Sun and was frustrated that I couldn't find ANY evidence of it on the Internet. I hadn't seen this cartoon since I was maybe 12. I knew I wasn't crazy or making it up. I'm happy to report that my boyfriend finally found it for me on the Internet – its correct title is The Mystery of the Third Planet and the entire cartoon can be found on YouTube (in English and Russian, but we'll get to that later).
Continue reading 'A fond look back at the bizarre beauty of The Mystery of the Third Planet' »
Photo Credit: Soyuzmultfilm Studio