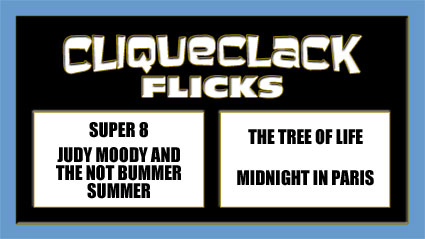 The studio bigwigs are hoping everyone has had their fill of superheroes — for the moment — and are giving movie-goers a wide variety of films to choose from this weekend including a new movie for kids, a new Woody Allen comedy, the return of Terrence Mallick and the eagerly anticipated collaboration between Steven Spielberg and JJ Abrams. Looks like it's going to be a good weekend!
Super 8
Kyle Chandler, Joel Courtney, Jessica Tuck
Rated PG-13 for intense sequences of sci-fi action and violence and some drug use.
Judy Moody and the NOT Bummer Summer
Jordana Beatty, Heather Graham, Parris Mosteller
Rated PG for some mild rude humor and language.
The Tree of Life
Brad Pitt, Jessica Chastain, Sean Penn
Rated PG-13 for some thematic material.
Midnight in Paris
Owen Wilson, Rachel McAdams, Kathy Bates
Rated PG-13 for some sexual references and smoking.
Photo Credit: Chuck Duncan