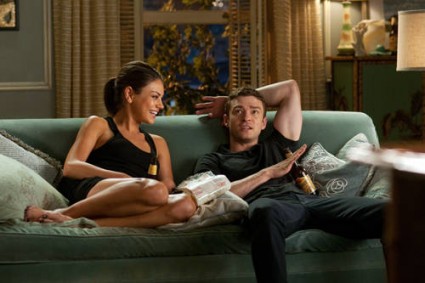 So … haven't we already seen this? You know, guy and girl who decide that they want a physical relationship without the emotional issues of a real relationship? With that actress from The Black Swan and some random guy? You know, No Strings Attached with Natalie Portman, right? Oh, no, that's the other one. And actually, the far inferior one. But don't start celebrating yet.
No Strings Attached is a romantic comedy that stars Mila Kunis and Justin Timberlake as confident but damaged Jamie and suave but closed-off Dylan. They are each coming off parallel breakups (with the amusing cameos of Emma Stone and and Andy Samberg) and have a sort of "meet cute" that also involves the city of New York. Fast friends, they decide to attempt the "friends with benefits" idea, both promising that they'll stay friends. Of course, everyone knows where it's going and who will end up with whom. The two leads are the best part of the film, funny and emotionally fragile in turn, but the material doesn't live up to their performances. Also great are the supporting characters, including a ridiculously confident Woody Harrelson as a gay sports editor and Jenna Elfman as Dylan's sister.
The movie starts with hilarity and exceptional chemistry, but makes a sudden shift into more of a dramatic film when the complicated back stories are revealed. Jamie was raised by a promiscuous and drunken single mother (the hilarious Patricia Clarkson), and Dylan's father is going through the early stages of Alzheimer's (a brilliant Richard Jenkins, far too good for what he's given). And the movie has fun making fun of romantic comedy cliches, like filming in obvious sound stages or using cloyingly manipulative music — but winds up falling into many of the same traps (including the music). A few too many contrived moments don't serve the story except as forcing conflict.
And it's all too obvious how things will end up — even with the reasonably logical progression of increasingly emotional connections between them. The movie winds up a bit all over the place, but a somewhat consistent level of humor and very consistent chemistry keeps it from falling apart. Rated R for a good reason, the film has some nudity and sexual situations with plenty of salty language. Both New York City and Los Angeles look beautiful as backdrops for the hi-jinks, and the strong performances elevate the weaker parts of the script. But I like director Will Gluck's earlier effort, Easy A (also with Emma Stone and Patricia Clarkson) more, cliches and all.
Still, the movie is a decent watch for the acting and humor alone, and who knows? Maybe you'll get a tear in your eye at the blatant manipulation they lampshade. Or maybe not.
Photo Credit: Screen Gems