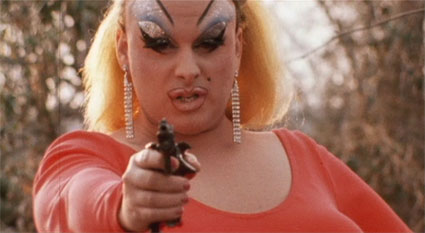 I'm not afraid to admit it — I'm from Baltimore, born and raised in a cozy little suburb that I still call home. In 1972, I had absolutely no idea who John Waters was when Pink Flamingos was released, much less his muse Divine. By 1981, I got my first taste of Waters' humor when the local art cinema next to the art school I was attending was turned into a XXX theater for his latest production, Polyester … except none of us at the school had any idea at the time why the theater had gone from foreign films on Friday to something called My Burning Bush over the weekend, so it was a real hoot to see that turn up in the movie.
Over the years, I had befriended some of Waters' friends who had taken over Edith Massey's old shop in Fell's Point and by the time Waters' most popular film was about to be released, I was a very tiny part of that group. I had the pleasure of attending the premiere of Hairspray and meeting — very briefly — Waters and Divine. A month earlier, I got to see Divine perform his nightclub act, and then not long after the movie opened to great acclaim came the shocking news that Divine had died. I was in shock … Baltimore was in shock … it was one of our darkest days since the Colts had snuck out of town in the middle of the night. Divine had been in Hollywood preparing to tape a guest appearance on Married: With Children at the time of his death and he was enjoying the best notices of his career as the harried 60s housewife, Edna Turnblad. It was devastating news, but at least he went out at the top of his game. However, his passing changed the tone of Waters' movies forever.
Today, Divine is a cult figure to many, his legion of fans from around the world have made the pilgrimage to Baltimore to visit his grave (I also attended the funeral, so I know exactly where it is), but not many people really know Divine beyond Hairspray. Pink Flamingos is his most infamous film, Female Trouble is probably the true fan favorite and Polyester gave us Divine in Odorama. Divine also had a recording career, and made several movies outside of Waters' Dreamland Productions including Lust in the Dust (with Polyester co-star Tab Hunter) and Alan Rudolph's Trouble in Mind in a rare non-drag appearance (he was slated to play an uncle to the Bundy family on Married: With Children). There has been an E! True Hollywood Story about Divine, but no other definitive documentaries about the man behind the makeup.
All that is about to change if director Jeffrey Schwarz (Spine Tingler! The William Castle Story) has anything to say about it. Schwarz met John Waters while producing a documentary for the musical remake of Hairspray and hatched the idea to put together the definitive look at the life of Glenn Milstead, aka Divine. While Schwarz and his team are working on the film, I Am Divine, they are also looking for assistance in funding because it's not easy coming up with money for any film today that isn't a remake, a special effects extravaganza, or a major star vehicle. A campaign has been set up at IndieGogo for interested parties to make donations, and there is a Facebook page as well. I'm very excited to see this film come to completion — check out the excellent Spine Tingler! to see Schwarz's craft — so I contacted Jeffrey to have a brief chat about the project and the fundraising campaign.
Please continue to the next page for the interview.
Photo Credit: New Line Cinema
This Post Contains Multiple Pages: 1
2