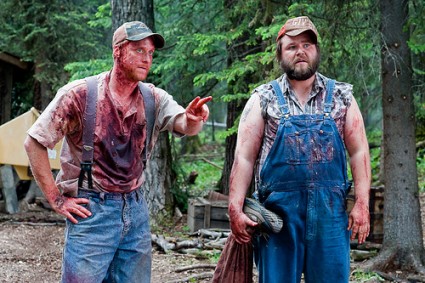 Reviewing a comedy movie can be tough, because the somewhat subjective nature of humor means that inevitably your opinions will differ on whether or not something is actually funny. So for this particular movie I'll be using two simple metrics: 1) The laugh test — did I actually laugh, and if so, how frequently? 2) The eye-roll test — this is literal, do I keep rolling my eyes at nonsense and cliches? Well…
So Tucker & Dale vs Evil is a very funny movie about the titular characters: the smooth and capable Tucker, played by Alan Tudyk (Serenity, Dodgeball) and the nervous and sweaty Dale, played by Tyler Labine (Rise of the Planet of the Apes, Reaper), two friends who have just purchased a cabin in the West Appalachian mountains as their new fix-em-up vacation home. But then they cross paths with intentionally diverse college kids on a spring break camping trip, led a bit by Allison, played by Katrina Bowden (30 Rock) and Chad, played by Jesse Moss (Final Destination 3).
But due to wacky series of mishaps and miscommunications, the kids believe Allison has been kidnapped by evil, murderous, creepy hillbillies when in reality she was only rescued from drowning. So the kids, championed by a very intense Chad, decide to "rescue" their friend, but only end up accidentally killing themselves one by one. The hillbillies, seeing this, are only frightened and confused as the bodies pile up and things just keep getting worse. But on the plus side, perhaps a bit of love is in the air?
Alan Tudyk and Tyler Labine play the two hillbilly friends brilliantly, with humor and charm, showing us right away that these two are decent folk. But we also see how easy it is to misunderstand what we see, as the kids could easily be in a very different sort of horror movie without the hillbilly perspective. Sure, Katrina Bowden is pretty enough, if a bit limited as a leading actress, but she's more boring than bad. Jesse Moss plays an excellent counterpoint, playing the sort of mysterious character that you really can't predict. The movie has a few twists and turns that are a touch predictable, but for the most part it sends you off with, "Well done, movie".
So the verdict? I laughed quite consistently, and I don't think I rolled my eyes once.  Now as this is a horror take-off, there's quite a bit of over-the-top violence, but that's to be expected. And anytime an audience can simultaneously laugh and wince at an impalement is a success in my book.
Photo Credit: Maple Pictures