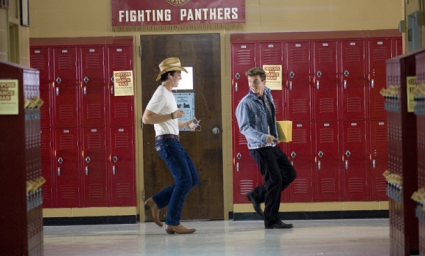 If you're looking for a scathing, "THEY RAPED MY CHILDHOOD" style review of Footloose, move along; you won't find that here. In fact, my response to those people is the same one that the kid from Big Daddy had towards people talking negatively about Styx: stop being cynical assholes. I'm not dead set against remakes and re-launches like the majority of my colleagues seem to be, and this version of Footloose proves my reasons why.
I almost feel like I am insulting you by telling you what the flick is about. In case you've not seen the 1984 classic, though, I'll give you the real quick recap. Ren McCormack (Kenny Wormald) moves to small town Bomont, GA to live with his aunt and uncle after his mother passes away. The loving arms of the town don't exactly wrap themselves around Ren, save for new pal Willard (Miles Teller). He runs amiss of the town Reverend, Shaw Moore (Dennis Quaid), when he tries to challenge a town law prohibiting dancing. His activism, though, does catch the eye of Shaw's daughter Ariel (Julianne Hough).
The original is a classic … one of the few 80's Movies that I love unabashedly (I like a lot of 80's movies, but don't love them). And, 27 years later, it still holds up. While writing this review, I popped in the recently released Blu-ray as a comparison point. So much of the original shows up in the 2011 version, a by-product of director Craig Brewster's obvious respect for the source material; he even brought in original writer Dean Pitchford to co-write.
The great irony of the Footloose story is that the bigger lesson isn't for the kids — but, instead, for their parents. Reverend Moore learns it eventually, even if most of the rest of the adults in town are slower to catch on: The tighter you try to hold onto something, the harder it fights to get away. In the case of Bomont, it's protecting its youth against the evils of an increasingly more immoral society. In the end, Shaw and Vi Moore (Andie MacDowell) learn that their greater responsibility as parents of teenagers is to have taught them as best as they possibly could, and pray that their children will make the right decision. I think that in the remake, that lesson does miss out from the decision to excise a subplot about burning books, but it also benefits from the changes in Ren's storyline, and his interactions with Shaw.
The most significant difference between the two movies is what the story does with Ren's mother. In the original, she moved to Bomont with Ren; in this version, it was her passing that prompts his move. The fact that Ren has felt a very real loss, comparable to what the Shaw family has gone through, has a great impact on how we see his quest.  Because of it, he makes a much more significant connection with Ariel's father. This Ren is a much more modern version of himself, in more ways that just being 27 years "newer." He has experienced loss in a way that Kevin Bacon's version never did. This maturity also parallels how the update starts, actually showing the accident that caused Bomont to change its laws (though, the accompanying city council meeting was a bit unnecessary).
As I mentioned before, this version is incredibly respectful of the source material. All of the little beats are there; the opening focusing on feet dancing, Willard's outfits,  the yellow VW Bug, the sound track … even the glitter in the final scene. I liked most of the changes, too, like moving the setting to Georgia to provide for a little more diversity in the cast, a more county-fied soundtrack (you've got to check out Ella Mae Brown's haunting take on "Holding out for a Hero" and Cee Lo Green's collaboration with Kenny Wayne Sheppard on "Walkin' Blues"), the aforementioned differences in Ren's backstory and the tweaks to the game of chicken Ren plays with Chuck (an almost unrecognizable Patrick John Flueger). I sadly didn't like Ziah Colon's take on Rusty, but considering this is the only role I've ever really liked Sarah Jessica Parker in, she had big dancing shoes to fill).
Though, big shoes to fill might just be the theme of the concept of remaking Footloose in the first place. The original had so many iconic performances, from Bacon to Chris Penn and John Lithgow. In being so respectful of what the original Footloose meant to so much of his audience, though, I hope Brewster has pre-empted some of the whining that generally accompanies remakes like this. If people continue to hate a movie like Footloose just on its merits, they're going to miss a damn fun film.
Photo Credit: Paramount Pictures