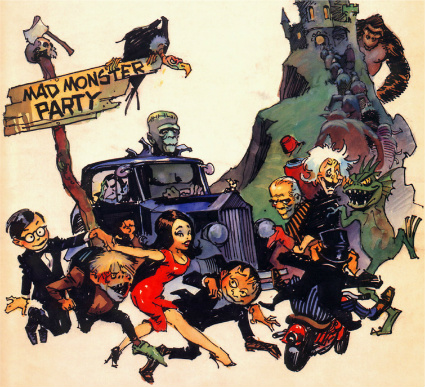 If you are a fan of some of the pre-70s old school horror flicks and/or you enjoy the (sometimes cheesy) holiday specials of years past, Mad Monster Party (often referenced with a question mark at the end of the title) is an item that should be included in your collection.
This lauded film (which had an initial but minuscule theatrical release and virtually no promotion from its distributor) was a direct result of Arthur Rankin Jr. and Jules Bass' successes with other animated holiday favorites such as 1964's Rudolph the Red-Nosed Reindeer. The timing of Mad Monster Party was perfect as the popularity of monster movies in the mid-1960s was at a resurgent peak. Rankin and Bass were well aware of this fact when the two creators decided to take a romp down the road with many of the Universal monsters of old, complete with more adult-type themes (spoofed, of course), an engaging soundtrack, musical numbers and timely and referential japes and jests.
The film is jam-packed with stars, references and lore which would make any film buff giddy. A few examples?
If you've never seen Mad Monster Party, a nice little 6 minute taste of the beginning of it may be viewed here. In the clip, you'll see the film intro, "Karloff the Uncanny" (as he was known in his heyday), and a hint of some of the terrific music to wet your whistle.
Just as well, below is one of the goofy dance numbers, The Mummy by "Little Tibia and the Fibias" (possibly recorded by Dyke And The Blazers) with Fang's mate (Diller) and the song's titular character flinging its wrappings about on the dance floor (complete with Spanish subtitles *snort*):
One of the best things about the DVD release of Mad Monster Party? Some of the terrific special features included on it. The "making of" featurette is packed with information. And my favorite — the music featurette — is no sloughy bit of filler:
Mad Monster Party: Making of a Cult Classic Featurette
It's Sheer Animagic! Secrets of Stop-Motion Animation Featurette
Groovy Ghouls! The Music of Mad Monster Party Featurette
2 sing along pieces
Original feature trailer
Best of all? You can purchase a brand new copy of Mad Monster Party for your very own. Click the link below and add it to your collection!
Want to know more about Mad Monster Party? My good friend Douglas Arthur and I recently chewed the fat about it on his Assault Of The Two-Headed Space Mules podcast. There is tons more information therein to be gleaned about this classic film.
Photo Credit: Frank Frazetta