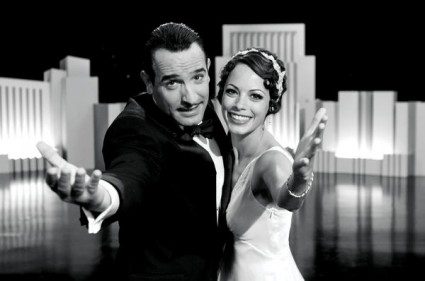 As the Oscars approach, Guest Clacker Ian Scott McCullough tells us why The Artist should not win Best Picture.
I'm a huge fan of classic cinema, including the silent era. The Battleship Potemkin, City Lights, Metropolis: these and many more silent masterpieces are some of the best films ever made. So needless to say, when I first caught wind about Michel Hazanavicius' upcoming film The Artist, I was ecstatic. As the Chicago premiere date drew nearer, and the outstanding reviews kept building up — I knew I had had to see it as soon as I could. But after I finally got the chance, I found myself leaving the theatre extremely disappointed.
Let me start off by saying that The Artist was a fine movie. However, it would be hard to deny that many of last year's most well deserving films were lost in the dust of what turned out to be nothing more than a clever experiment. So what happened? Why did what seemed to be a completely sure-fire bet fail on nearly every level and still manage to be unanimously praised?
I have to admit that much of the distaste I have for The Artist cannot be credited to the film itself, but rather to the unprecedented amount of unconditional glorification it received. But can you really blame critics? The Artist is a film that worships Hollywood with a great deal of passion, so can we really condemn Hollywood for loving it? If someone made a film about how awesome I am, I would like it too. But if the exaltation of cinema was the primary concern of this film, it fell short there as well. Look at Scorsese's Hugo. Hugo was a clear-cut, masterfully crafted love letter to cinema that spoke volumes about the beautiful journey movies take us on. However, The Artist still managed to outshine Hugo in most respects.
So what were the positive elements of the film? Well for starters, the music is fantastic. It contains some pretty great acting (however nothing particularly Oscar worthy), and also some interesting cinematography. The entire atmosphere of films from the 20s was mimicked really well, but that seems to be the only area to which any real critical thinking was given. It's as if only one objective look was given to an entire era of an art form. While Hazanavicius' intentions of paying tribute are true, all he has really succeeded in is making a rather elementary summarization of one of the most definitive times in the history of film.
Aside from the massively obstructing gimmick of being a silent film in 2011, The Artist doesn't have much going for it. The script is all right, but if seen impartially is completely mediocre. Whether a film is good or not relies completely on the story, but vice versa that will never be true. A good story is a good story no matter how it's executed on screen. This was the first and paramount mistake made by The Artist. The story is by no means bad; in fact it's quite charming. However it's nothing we haven't seen before. Take a look at the three classics I mentioned before. The Battleship Potemkin, City Lights, and Metropolis -- three very different films from three very different directors. So what is it that unites these films aside from the fact that they happen to be silent? All three are composed around beautiful and unique stories, filled with complex characters and strong emotions. The Artist has a certain amount of depth to it, but compared to the masterpieces from the period it so desperately tries to imitate — it's flat and cold.
That being said, The Artist is still a film I've recommended to many people. It just happens to always be with a large grain of salt. Silent film, and the entire progression of cinematic storytelling, is something that commands respect, and deserves to be paid tribute. After all, it's to this innovative time that we owe everything we know about cinema. All that flowery stuff they say is true you know. Movies really do have the power to take us places — to strange worlds and distant lands never before explored. They can fly us through time and space, exploring new ideas and emotions we would never have had the chance to experience otherwise. They are an escape — one with the power to change the world. And for something like The Artist, that more than anything wanted to fully embody that spirit, it just felt strange that something more wasn't accomplished.
Ian Scott McCullough is a young filmmaker and writer from Tennessee. He is currently studying film directing in Chicago.
Photo Credit: The Weinstein Company