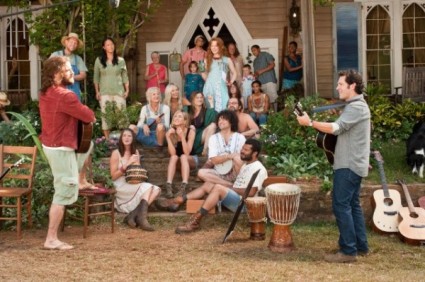 Whenever you see a comedy, there's a classic problem of whether or not it was any good. With a dumb, unfunny movie, it's easy — it's just bad. But a dumb movie filled with laughs? That's a right proper quandary, it is. And thus we must inspect the latest from director David Wain (Wet Hot American Summer).
Wanderlust tells the story of married couple George, played by Paul Rudd (Anchorman: The Legend of Ron Burgundy, Clueless) and Linda, played by Jennifer Aniston (Horrible Bosses, Bruce Almighty), who are living a busy, if stressful life in Manhattan. But when the two end up broke and without options, they decide to take up an offer from George's annoying jerk of a brother (Ken Marino) and head to Atlanta for a hopefully temporary change of scenery. But on the way there, they stop at a bed and breakfast that is actually an old school hippie commune. And the seemingly peaceful and progressive community is the perfect antidote for the stress they're used to experiencing.
Linda is initially resistant and reticent, while George is gung-ho all the way… which means it's time for a predictable ol' switcheroo! Linda is entranced by ostensible "cult" leader Seth (Justin Theroux, Aniston's real life boyfriend), while George is simultaneously intrigued by the "free love" concept and appalled at basically everything else. The commune is a veritable list of classic hippie cliches, which are admittedly presented mostly humorously.
But there's an overabundance of nudity (male mostly) that seems more silly than funny, trying to be shocking but ends up tiresome. There's also a ridiculous preponderance of comedians in this movie (Alan Alda, Malin Akerman, Joe Lo Truglio, Kathryn Hahn, Kerri Kenney, Jordan Peele, etc, etc), which means that there are a lot of laughs. But the story is so cliched and obvious — redemption arcs, McGuffin villains, actual McGuffin objects, silly contrivances, etc. I'd say there were just about equivalent amounts of me laughing and me shaking my head at the stupid parts. The movie stumbles at every serious moment, but it's still more amusing than most.
If you can ignore the boring nonsense and flagrant, unnecessary nudity, then it's not so bad. These days, that's high praise indeed.
Photo Credit: Relativity Media