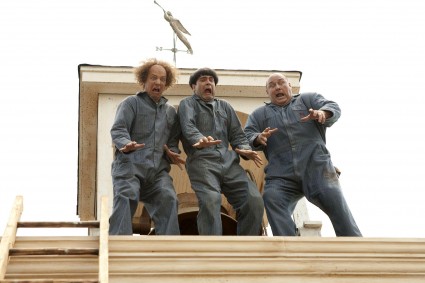 Wise guy, eh? No? Well, I figured as much.
The Three Stooges (which has been delayed for years) is actually directed by Bobby Farrelly and Peter Farrelly, and it certainly fits within their oeuvre, although this movie is a lot less dirty than many they've made. The titular oddballs are back, with frizzy haired Larry (Sean Hayes), bald bludgeoner Curly (Will Sasso), and slightly smarter leader Moe (Chris Diamantopoulos). We start in an orphanage run by nuns, naturally, where the three are abandoned as babies. But as adorable children they are already causing untold damage to property and to angry Sister Mary-Mengele (Larry David), while unaging Sisters (played by Jane Lynch and Jennifer Hudson) look on in worry. Although the trio ache to be adopted, it never quite works out for the gang.
Twenty-five years later as ostensible adults, they are still causing mischief, while worried new nun (played by model Kate Upton) looks on … also. But uh oh, the orphanage is in severe debt, mainly due to health insurance claims by the Stooges, and will be shut down. UNLESS … the Stooges can raise the money in time to save the day. So off they go to the big city to find a way to save their home. Once there, they meet Lydia (Sofía Vergara) who wants them to kill her husband (she claims he is terminally ill and wants to die) for the money. Naturally, a series of mishaps and screw ups occur over and over until the saccharinely happy ending.
Don't mistake this movie for anything other than it is — ridiculous slapstick. I also saw one or two scatalogical jokes, which is bizarre for modern comedies to have so few. The three leads do a certainly excellent job at the silly characters they inhabit, incorporating over the top physical comedy in a way just like the original Stooges. It's really a sort of "classic" kind of slapstick movie, with a plot that's barely there, and everything an excuse for more nonsense, and including a few decent actors along for the ride. It's not painful to sit through, but it's pretty lowbrow humor, so you may not laugh much unless you're a kid.
As a kid's movie, it's barely objectionable, and I think that was the intention all along. I admire the cast's willingness to adhere to such old school comedy, but it's not exactly fresh. If you like the classic Stooges, you will either love this movie by its homage or hate it because it isn't the original. If you don't like them, you probably won't like this either. And if you're indifferent — eh, it's not so bad.
Photo Credit: 20th Century Fox