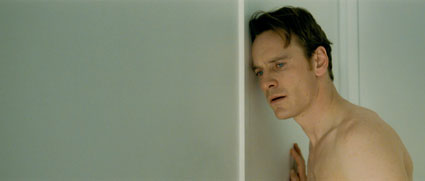 In Shame (on DVD and Blu-ray April 17th), Michael Fassbender plays Bradon Sullivan, a well-off New Yorker with an apparently cushy job, an artfully fantastic apartment (or possibly two), a sister he apparently can't stand, and … an addiction. To sex. He snorts coke too. Brandon lives a solitary life that allows him to indulge in hookers, internet porn and masturbation when the mood strikes (and, yes, even at work — not the hookers, but the other two). Out of the blue, his sister Sissy (Carey Mulligan) shows up on his metaphorical doorstep (had he answered any of her multitude of phone calls, he would have known she was coming) and the encroachment into his life is just about too much for him to bear.
Now, before we go on with the review, I just want to get this out there so we can move on. Yes, this is the movie that features Michael Fassbender in all of his glory. All of it. All of his NC-17 rated glory (so even if the movie did play in your town, you may have a hard time finding it in the local listings because of that pesky rating). Once you get over the shock and awe of seeing the X-Men dude naked, you can settle into the rest of the story … such as it is.
And herein lies the problem with Shame. If it weren't for the curiosity of seeing a big movie star in the buff, there really isn't anything else going on to keep you interested. During the course of the film, we never get a sense of just who Brandon Sullivan is (and maybe even he doesn't know). We don't really know what he does for a living, we assume the job pays well because of his apartment(s) and wardrobe (and extensive porn collection, not to mention the online fees he's wracking up), we know the he's originally from New Jersey, by way of Ireland, and that's about it. The movie is about Brandon in the here-and-now, but we never know how he got here or why he has this addiction now. We don't know why his relationship with his sister is so thorny, except that her arrival intrudes on his sexual freedom. At least he takes her up on an invitation to hear her sing at a local club, where she performs the sloooooooooooowest version of "New York, New York" you'll ever hear (which brought a tear to his eye, probably because he thought it would never end).
Then there's Brandon's boss, David (James Badge Dale), who may or may not be Brandon's wing man when they go bar hopping. It's confusing because David is married, or maybe divorced or separated, or maybe just a scumbag — and we'll settle on the latter after he hooks up with Sissy after her nightclub act, and Brandon tells her to stop calling him because he has a family. The trailer makes it look like David finds out about Brandon's illicit use of his company computer and some drama might actually take place, but in the movie he just blames it on Brandon's intern and we never hear about it again.
The numerous sex scenes are anything but erotic, mainly because we're just as distanced from Brandon as he is from himself. He needs the sexual release but he gets nothing emotionally satisfying out of it, and when he attempts to romance a "nice girl" co-worker, it ends in disaster for them (although he quickly picks up the pieces by calling a hooker to help him finish the job he couldn't get done with the good girl). I really wanted to feel some kind of sympathy for Brandon, but we're never allowed to get under his skin to see what really makes him tick. Even when personal tragedy strikes, we're still removed from anything emotional even though we can see Brandon's agonized face in excruciating close-up. In the end, it's all just a very cold exercise in style over substance.
The Blu-ray/DVD combo pack includes two disks. The extras on the Blu-ray include:
Focus on Michael Fassbender
Director Steve McQueen
The Story of Shame
A Shared Vision
Fox Movie Channel presents: In Character with Michael Fassbender
Theatrical trailer
The DVD disk includes a Digital Copy. Audio on both is English 5.1 DTS-HD Master Audio and Spanish 5.1 Dolby Digital. There are also English and Spanish subtitles.
Photo Credit: Fox Searchlight Pictures