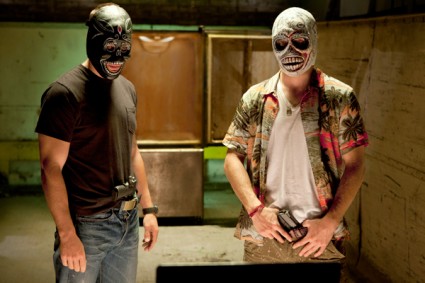 As soon as I saw the trailer for Savages, the latest movie from controversial film director Oliver Stone, I was interested in what the lead female character Ophelia or "O" (played by Gossip Girl's Blake Lively) had to say. She hauntingly teased that just because she was the narrator of this story, it didn't mean she was necessarily still alive. Set to the music of Eminem and Nate Dogg's "'Till I Collapse," I thought the trailer was pretty well done. It grabbed my interest and seemed to set the tone for an edgy, perhaps artsy action movie that I otherwise would probably not have been interested in.
Lively has certainly come a long way since making her start in The Sisterhood of the Traveling Pants. As "O," Lively is the only female in an attractive ménage a trois, also consisting of Chon (played by John Carter's Taylor Kitsch) and Ben (played by Aaron Johnson, who was perhaps best seen portraying John Lennon in Nowhere Boy). The trio lives a life of luxury and ease in beautiful Laguna Beach, for Ben and Chon are the brains behind a thriving marijuana-growing operation. Best buds since their teens, apparently Ben and Chon enjoy each other's company so much they don't have a problem sharing everything about their business and everyday lives – including "O" as a lover.
That's right; "O" sleeps with both of them because, as she puts it, they make up two very different components of her ideal man. She enjoys Ben's soft side that involves trying to create a greener environment and giving back to various charities around the globe, as well as his gentle touch while making love to her. But she also seems to enjoy having intense, sometimes rough sex with Chon, who's an ex-Navy SEAL and hardened mercenary with a jaded view of the way the world works. The three of them seem happy enough in their little arrangement until the ruthless Mexican Baja Cartel (surprisingly led by a woman, Elena, portrayed by Salma Hayek) decides to move in on their territory.
When Ben and Chon are reluctant to accept the Baja Cartel as "business partners," Hayek sends out her enforcer Lado (portrayed by the talented Benicio Del Toro) to make them reconsider. Lado abducts "O" after determining she is their biggest weakness. But what the Cartel doesn't know is the boys also hold an FBI agent in their back pocket – Dennis, played by the ever-charming John Travolta – although I expected more of him in this role judging by the previews.
This movie certainly features an all-star cast and I thought everyone was utilized really well, but at times the violence made me a tad uncomfortable and I found myself practically squirming in my seat. I chuckled aloud when Lado called the primary trio savages for sharing the girl. If you've seen the trailer, you have but a small taste of the unspeakable savagery Lado is capable of – trust me on that. The man brutally shoots people in cold blood and then takes the time to snort lines of coke, as if he has no soul or remorse. But I have to say, I'm always impressed by Del Toro's acting every time I see him in action.
Based on the best-selling crime novel by Don Winslow, Savages works well as an action flick, but I think Stone was trying to make it a little more artsy than it actually was, in my humble opinion. We see character development in the trio at times, but overall the movie fell a little flat for me. It is definitely gritty, but it is not really comparable to the likes of Pulp Fiction, Reservoir Dogs or even Stone's artsier Natural Born Killers.
It does tend to make the viewer think about what the definition of a savage is and just how far they'd be willing to go if someone was holding the love of their life hostage. We are left with the burning question: Is Lado really the savage or are Ben and Chon? Human beings are capable of the foulest things when they feel as if their lives or the lives of their loved ones are being personally threatened.
Savages started out with three people in love … then things just got out of control. Do you think Lively is alive or dead by the film's end? To answer that question, you're just going to have to see it for yourself.
Till the roof comes off, till the lights go out
Till my legs give out, can't shut my mouth.
Till the smoke clears out – am I high? Perhaps
I'ma rip this shit till my bone collapse.
[easyazon-image align="none" asin="B002AF4Y96″ locale="us" height="160″ src="http://ecx.images-amazon.com/images/I/613TuocSuNL._SL160_.jpg" width="124″] [easyazon-image align="none" asin="B001AQT0Z4″ locale="us" height="160″ src="http://ecx.images-amazon.com/images/I/51kpndGfCQL._SL160_.jpg" width="139″] [easyazon-image align="none" asin="B00008975Z" locale="us" height="160″ src="http://ecx.images-amazon.com/images/I/5109tdWtfCL._SL160_.jpg" width="160″] [easyazon-image align="none" asin="B005OHUC3O" locale="us" height="160″ src="http://ecx.images-amazon.com/images/I/51Yl2XEEeBL._SL160_.jpg" width="105″]
Photo Credit: Universal Pictures